Iraqi Special Operations Forces and Kurdish Counter Terrorism Forces backed by the international coalition this week arrested 10 members of the al-Rawi financial network, a key ISIS financial facilitation group, a coalition spokesman said.
The arrests, facilitated by the Iraqi government and the Kurdish Regional Government, were made by partner forces during operations conducted in Baghdad and Erbil between Sunday (October 7th) and Tuesday.
"The arrests deal a major blow to the desperate attempts by ISIS to re-emerge in Iraq," said Lieutenant General Paul J. LaCamera, commander of Combined Joint Task Force-Operation Inherent Resolve.
"Those who provide support to ISIS, in any way, will face the consequences," he said. "With the invaluable help of our Kurdish partners in Iraq, we remain committed to the enduring defeat of ISIS."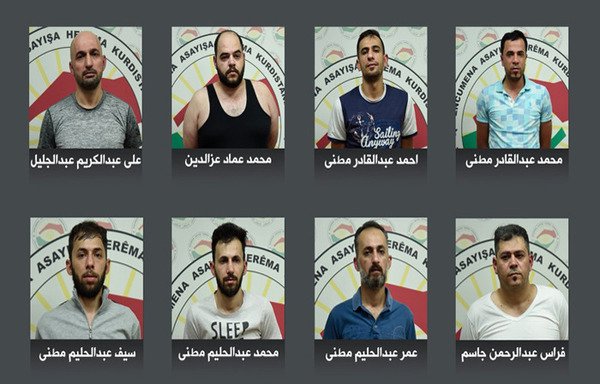 Raids in Erbil and Baghdad
The initial raid, in Erbil, was conducted by the Counter-terrorism Directorate of the Kurdish Region Security Council, in partnership with the coalition, after the Iraqi judiciary had given the green light, a security source told Diyaruna.
Eight members of the network were arrested, the source said, and security forces seized telephones, computers, passports, official documents and money.
Following the initial sting, a second operation in Baghdad, conducted by special forces with coalition backing, succeeded in arresting a further two members of the ISIS financing network, the source said.
The network's capture "severed a major artery" that fed ISIS with money and helped it carry out its crimes, security analyst Fadel Abu Ragheef told Diyaruna.
"This network is a large funding group that was an important supplier of ISIS," he said, and its elimination will mean "a severe loss" to the group.
This success follows on the heels of other victories in the battle to target ISIS's funding sources and its illicit handling of money, he said.
This includes "money laundering and double financial transfers through multiple agents or intermediaries inside and outside the country, as well as through the trading of real estate and the purchase of bank shares", he said.
Close security co-ordination
Close co-ordination among Iraqi security agencies, the Kurdish Regional Government, and the international coalition, as well as strong assistance from the civilian population, has led to the takedown of senior ISIS leaders and the networks and cells they head.
The security system operates today with a "one team spirit" with major co-operation between the security and intelligence services, security expert and former Interior Ministry official Abdul Karim Khalaf told Diyaruna.
These apparatuses exchange information with a high level of professionalism, he said, and support each other in the most difficult and secret security operations.
They are operating with greater co-ordination, pursuing security information through their intelligence sources and acting on it with a high degree of discipline and responsibility, he noted.
Judicial authorities are strongly involved in all these operations, Khalaf said, adding that no move can be taken to conduct raids or arrests without orders and legal notes issued by the judicial establishment, which has the first and final say.
Iraqi citizens are most important element of the security effort, he said, adding that a close relationship between the public and the security forces is vital and necessary in order to track down ISIS remnants.
"The people are those who bring about the success of security plans and activities and make their areas more stable and prosperous," Khalaf said.
Targeting ISIS leadership
This high level of co-ordination has led to ongoing success in tracking down and defeating senior ISIS leaders wherever they are hiding, Khalaf said.
On October 3rd, intelligence services took down two "dangerous terrorists", including Abu al-Khail, who was lured along with two of his aides into a planned ambush in the desert north of the Kilo-160 road in Anbar and arrested.
Al-Khail had served as the military commander of ISIS in south al-Rutba, and had been responsible for planting explosives on the Anbar highway.
Destroying terror networks
Since last December, when victory was declared over ISIS, "hundreds of prominent ISIS leaders and members have been eliminated, and their secret networks and sleeper cells broken up", security expert Fadel Abu Ragheef said.
"This is a clear indication of the security co-ordination and joint activity between all forces responsible for maintaining security and the intelligence services," he told Diyaruna.
He singled out the Falcons Cell, which has been active in the tracking down of ISIS remnants and has contributed intelligence that led to effective strikes on Syrian territory, for particular praise.
Abu Ragheef also pointed to the role of the Iraqi judiciary, describing it as the basic agent of the pace and the path of all security activities.
No arrests, raids or searches take place without consulting with the judiciary, he said, noting that it operates in harmony with law enforcement apparatuses.