Most of the Anbar residents who were displaced when the "Islamic State of Iraq and Syria" (ISIS) overran parts of northern Iraq in 2014 have now returned to their homes, provincial officials said.
As the last internally displaced persons (IDPs) return to their homes in Anbar, local authorities are preparing to close down camps where just a few families remain, they said.
Last year, a committee comprised of local and international organisations was tasked with facilitating the return of IDPs who wanted to go home, said Mazen Khaled al-Dulaimi, advisor to the mayor of Anbar for IDP affairs.
"Most of the IDPs living in the camps are from towns in western Anbar," he told Diyaruna, noting that these areas were the last ISIS stronghold before Iraqi forces defeated the group in 2017.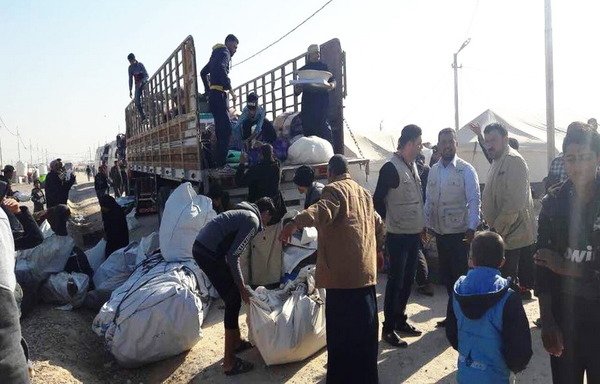 Closing down camps
The committee has helped to facilitate the return of around 27,000 families to al-Qaim and another 6,000 families to Anah, al-Dulaimi said.
"Every week we are bringing back two or three batches that include dozens of displaced families to western Anbar towns and villages," he said, noting that "most of the camps have only a small number of IDPs left".
For example, al-Khalidiya camp used to shelter around 7,000 displaced families and now houses only 250 families, al-Dulaimi said.
There are two other main camps in al-Habaniyah and Amiriyat al-Fallujah, he said, in addition to the Kilo-18 camp in western Ramadi.
"We are getting ready to close down and merge these camps," he said, adding that the local authority is seeking to resolve the displacement issue and normalise the situation, as the liberated areas are once again habitable.
"We are doing everything we can to provide the conditions for stability for returnees in collaboration with national and international authorities," he said.
"At the public services level, we are working day and night to rehabilitate the infrastructure," he said. "As for the security situation, there is stability in general throughout the province, and fears have been alleviated."
'Closer to our goals'
Anbar province's displacement crisis has "significantly improved", Anbar province council spokesman Eid Ammash told Diyaruna.
Of the original number of IDPs, only 10% or 15% remain in the camps, he said, with most people who are still stuck there unable to leave as their homes suffered heavy damage during the fighting.
"We have to support these people and put an end to their suffering," Ammash said, noting that sheltering the displaced population also places "a heavy burden on the shoulders of not only the local authority but the entire government".
"We aim to resolve this issue and close down the camps so we can fully focus on reconstruction and rebuilding of our cities," he added.
Reconstruction campaigns are ongoing, with hospitals, schools and service buildings reopening and public access to water and electricity restored.
"We still have a lot to do but we are getting closer to our goals," Ammash said.
ISIS families cannot return
Anbar provincial council member Athal al-Fahdawi stressed the importance of finding a solution for the remaining IDPs that cannot return.
"Some are ISIS families or those who have someone in their family that is a suspect so they cannot return since even their extended families and tribes will not take them back," he told Diyaruna.
"We have to find solutions to this problem and hope that everyone can help in this effort," he said.
Reconstruction is being undertaken by local agencies with limited funds, he said, calling for "sufficient funds for the province to be able to meet the requirements for development and compensation of those affected by terrorism".