The Syrian city of al-Raqa is preparing to celebrate the first anniversary of its liberation from the "Islamic State of Iraq and Syria" (ISIS) later this month.
The Syrian Democratic Forces (SDF), backed by the international coalition, announced they had taken full control of the northern city last October 17th, shattering the final ISIS holdouts in the group's de facto capital.
Since then, city residents told Diyaruna, al-Raqa Civil Council -- the Arab-Kurd autonomous administration -- has been working to restore public services and security.
Over the past year, water and electricity services have been restored, roads have been opened, and rubble and explosive remnants of war have been cleared from the city's streets.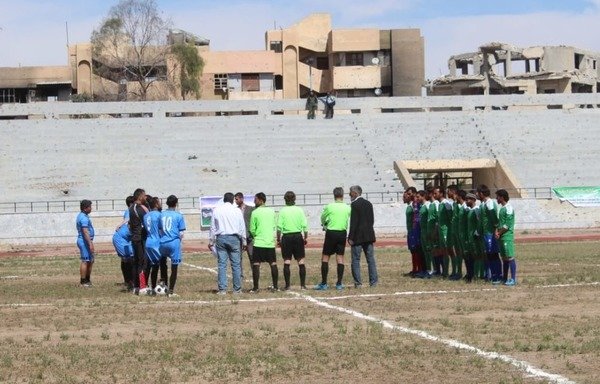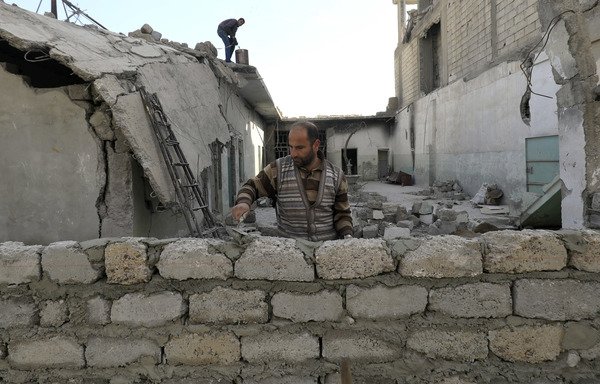 These efforts would not have been possible without the efforts of the Internal Security Forces (ISF), which worked to maintain security inside the city, and the continuous backing of the SDF, residents told Diyaruna.
"What has been achieved in the city since its liberation a year ago is a tremendous accomplishment, given the magnitude of the destruction that took place in the city," said al-Raqa resident Mahmoud al-Amin.
In addition to clearing the rubble and mines that littered the city, corpses needed to be located and removed from most districts, he told Diyaruna.
"Basic services, which were totally non-existent in the city, are now up and running and working very well," he said.
This has encouraged displaced residents to return to the city and surrounding villages, where shops and marketplaces have reopened, he added.
"The surest sign that life has returned to normal is that schools are open and receiving students," al-Amin said, noting that this indicates residents are confident the city is safe for their children.
Al-Amin said he has been surprised at the pace of recovery, and was pleased to note that the administration also has been working to provide amenities such as sports fields and a youth centre.
'Tremendous headway'
Efforts to remove rubble have made tremendous headway, and main streets now are almost clear, according to Khalid Mustafa, who serves on al-Raqa Civil Council's reconstruction committee.
"Work is currently under way to clear the inner neighbourhoods to open all streets and neighbourhoods," he told Diyaruna.
The task has been difficult due to the level of destruction, the presence of mines planted by ISIS that require the intervention of specialised teams, and of mass graves, he said, all of which have prevented repair efforts or caused delays.
"Despite all this, the results have been excellent, as most streets have been opened and a large number of them have been paved with asphalt," he said, with curbs also repaired, cleaned and painted.
Main streets are lit with solar-powered lights, he said, and water now reaches all parts of al-Raqa since the completion of network restoration and repair work.
Efforts have been made to increase the water pressure so it can reach all residences, he said, noting that some people who live on upper floors used to complain that it did not reach them or that the quantity was insufficient.
Due to the irregularity of the electricity supply from the main power grid, residents have turned to subscriptions to private generators for electricity.
The administration has been helping lower the cost by providing mazout (fuel oil) to generator owners at lower prices, he said, and by making household cooking gas available at a reduced price.
Restoring agriculture also has been a priority, as it is the main source of income in the region, al-Raqa farmer Jamal al-Bakkar told Diyaruna, noting that "water pumps were repaired and irrigation channels rehabilitated".
Support to farmers also included the provision of essential pesticides, some of which were distributed free or sold at low prices, he added.
Civilian co-operation
The ISF continue to provide security services and to regulate traffic in al-Raqa and its outskirts, said al-Raqa resident and ISF volunteer Ramez al-Hussein.
"The city's residents are co-operating superbly with the security forces because they are quite aware of the nature of the task entrusted to those forces," he told Diyaruna.
Security can only be maintained through close co-operation between civilians and the security forces, al-Hussein said.
The ISF have set up checkpoints inside the city and conduct regular patrols, he said, while the SDF handle security outside the city and on its outskirts to prevent extremist infiltration.
"The ISF also co-operate on a constant basis with the SDF, who intervene immediately in any security-related emergency," he added.