Joint Iraqi forces say they have increased the number of security operations they are conducting in Anbar's southern desert areas and along key routes to target "Islamic State of Iraq and Syria" (ISIS) hideouts and activity.
In the most recent of these operations, launched September 11th, army battalions, emergency units and local police conducted a large scale search operation in the area surrounding al-Razzaza Lake.
Since mid August, Iraqi forces have conducted several operations in the vast desert that stretches from al-Razzaza Lake in the east to the border with Jordan and Saudi Arabia to the west.
These have resulted in the arrest or killing of a number of ISIS elements, and the destruction of explosives, weapons and guesthouses belonging to the group.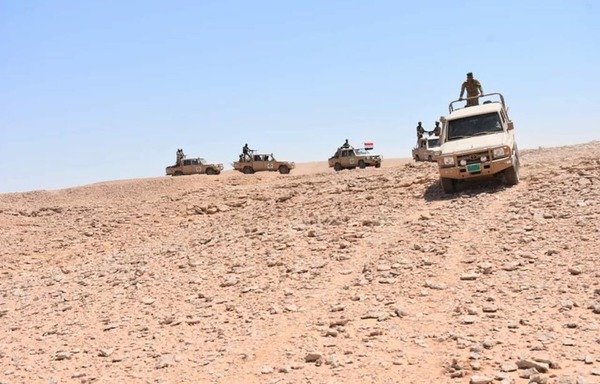 "The operations in the southern Anbar desert have become more intense in the past few weeks and are now at an average of at least one every week," Anbar provincial council member Naeem al-Koud told Diyaruna.
They are being executed with a high level of co-ordination between the Iraqi army, police and tribesmen, with air cover from the Iraqi air force and the international coalition, he said.
Operations are conducted on the basis of "intelligence reports from reconnaissance missions or from information provided by civilians living in remote desert villages", he added.
They are an important means of ensuring that "armed elements cannot rebuild their capacity" by taking advantage of the terrain, he said.
Securing desert areas
Securing the desert will help to protect Anbar's cities, the international highway that stretches along the border with Jordan and Syria and the hajj route, which begins in the border town of Arar on the Saudi side, he said.
"During their search operations, the 1st Infantry Division killed two terrorists in al-Talaat and arrested three drug smugglers who are suspected of belonging to ISIS," al-Rutba governor Emad Mashaal al-Dulaimi told Diyaruna.
The ongoing security operations in the southern desert have "reinforced the security situation in general in al-Rutba and secured the highways, including the international highway, better than before", he said.
"The forces have achieved good results as the enemy is incapacitated and its cells and hideouts are quickly targeted," he said, adding that ISIS remnants "have no time to catch their breath" between operations.
Security forces are overcoming a host of challenges, particularly those relating to the terrain, which is known for its vastness and its valleys, caves and ruggedness, making it difficult to secure, said Anbar provincial council member Athal al-Fahdawi.
Despite the difficult conditions they face, he told Diyaruna, Iraqi forces have been able to prevent ISIS remnants from going on the offensive.
"The security effort on the land and in the air is gaining momentum as search operations are happening at a faster pace," al-Fahdawi added.