Dozens of "Islamic State of Iraq and Syria" (ISIS) elements have been arrested or killed during an ongoing security campaign in Iraq's Western Desert, the Ministry of Defence said Monday (September 24th).
Iraqi forces on Saturday began a large-scale sweep of the desert areas between Anbar, Salaheddine and Ninawa provinces, up to the Iraqi-Syrian border.
The campaign was launched along seven routes, Ministry of Defence spokesman Maj. Gen. Tahseen al-Khafaji told Diyaruna on Monday.
The Iraqi army, al-Jazeera, Anbar and Ninawa operations commands and tribal mobilisation forces are taking part in the operation, he said, with air support provided by the Iraqi army and international coalition.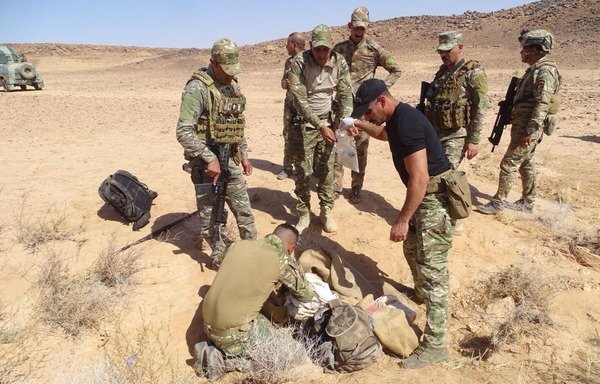 "The campaign was preceded by an expanded security meeting at Ain al-Assad base in al-Baghdadi area of western Anbar, headed by the army staff and the assistant commander of joint operations," al-Khafaji said.
The meeting was convened after intelligence information from the International Coalition Command and the Iraqi Military Intelligence and Security directorates pointed to the presence of ISIS elements in the desert, he said.
"In the meeting, roles and responsibilities were divided between the operations commands and the other military and security units, and then the forces embarked on their campaign at dawn on Saturday," al-Khafaji said.
Sweep is continuing
"Over the last two days, we have killed and arrested dozens of terrorists," al-Khafaji said. He did not give a full count, but noted that "four terrorists were killed in the area of Sheikh Ibrahim hills in ​​the Ninawa desert".
"Militants' rest-houses and hideouts were seized, and large stocks of weapons, explosives and motorcycles were destroyed during the searches," he said.
The campaign has so far led to the destruction of 57 improvised explosive devices (IEDs), six rest-houses, five tunnels and five motorcycles, he added.
A large number of villages and desert areas also were searched, he said, including al-Kuwairat, Umm Samawa, Abu Sabiha, Sawisa, Tuwaisan, al-Sukhairiyat, Wadi Muhairija, al-Ghardakiya, Tarifawi and Wadi al-Ajij.
Shepherds in the area have been questioned as part of the campaign.
Iraqi army aircraft have launched more than 14 combat missions to support the security forces in the Anbar desert, al-Khafaji said, noting that the campaign "is going on with great success".
"We have achieved better results than we expected, thanks to the co-operation and assistance of the people and the information we have been receiving," he said.
There are two main objectives in this campaign and in any others that may follow, he said: "First, not to allow ISIS elements to obtain a safe haven in that vast desert", and second, to "fortify our borders against infiltration".
This is especially important now, in light of increased military pressure extremist groups such as ISIS are facing on the Syrian side of the border, he said.