A group of Yazidi women and children who had been abducted in Syria by the "Islamic State of Iraq and Syria" (ISIS) have now been rescued, the Iraqi Office for Yazidi Abductees Affairs said Wednesday (September 19th).
"Over the past 10 days, a total of eight women and children who have been held in the hands of ISIS have been rescued in Syrian territory," office director Hussein al-Qaedi told Diyaruna.
The abductees had spent four years in captivity, he said.
The last of the group to be rescued, on Tuesday, was Lazima Kheiru, 24, of the Sinjar-area village of Hardan.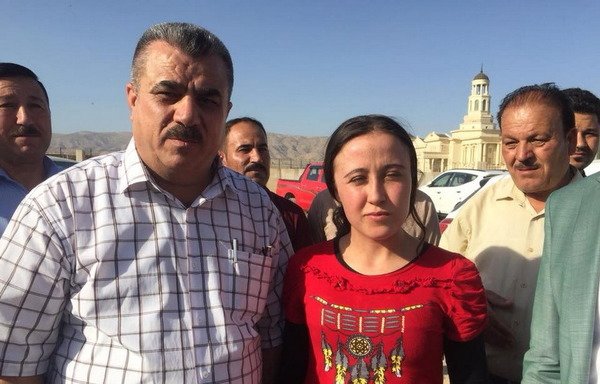 Rescue operations require strenuous efforts by the office's staff, in co-operation with the security authorities in the Kurdish region, al-Qaedi said.
He did not reveal specific details about the operations for security reasons related to the safety of the remaining abductees.
The office, which is based in Dohuk and linked to the Kurdish region's government, was opened in October 2014, he said.
Since then, it has played a key role in freeing thousands of Yazidis who were kidnapped by ISIS after the group overran Sinjar in August 2014, he said.
"To date, we have saved 3,330 Yazidis: 338 men, 1,058 women and the rest children of both sexes under the age of 15," al-Qaedi said.
That number is out of a total of 6,417 Yazidis who were abducted by ISIS, he said, "the vast majority of them children and women".
'Our work will not stop'
"Our work will not stop until we achieve the goal for which we have established our office, which is to release every last Yazidi abducted by ISIS and return them to their families," al-Qaedi said.
National and international support is still needed for the Yazidis, he said.
"We want everyone to co-operate more with us to save our women and children and the rest of our abductees from the terrorists and to put an end to their suffering and the long-time suffering of their families," he added.
"There are projects and programmes carried out by humanitarian organisations and activists aimed at providing psychological support and treatment to the Yazidis who have been freed from ISIS's grip," he said.
But the services provided are not as comprehensive as they could be, he said.
"Terrorism has caused endless tragedies and disasters to the Yazidi community, and it is necessary to harness all capabilities to alleviate their effects," he said.
A large number of Yazidis still live in camps in Dohuk, including the Qadya camp, due to the extent of the damage ISIS inflicted on Sinjar, he said.