The Syrian regime on Sunday (September 16th) began holding local elections in the areas of the country under its control, a move activists describe as a "farce".
Holding elections is an attempt to circumvent a peaceful political solution by planting regime allies in all public-facing administrative posts, they said.
Polling stations in regime-controlled areas opened their doors Sunday for the first local and provincial administration councils elections since the outbreak of the Syrian conflict in 2011, to elect council members and presidents.
Syrian state media proclaimed that "more than 40,000 candidates" were vying for "18,478 seats in all provinces" -- a pronouncement greeted with skepticism.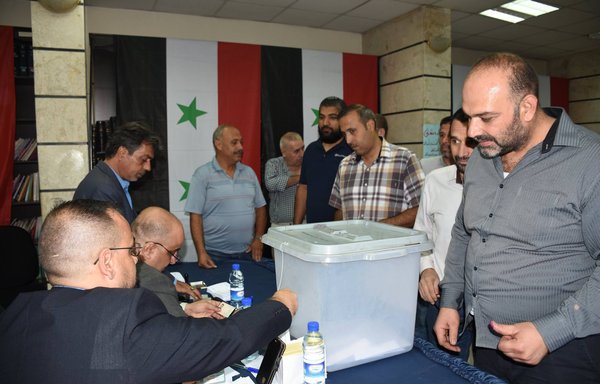 "The least that can be said about these elections is that they are a farce," Syrian lawyer Bashir al-Bassam told Diyaruna.
He questioned how elections could be held when half the Syrian people are either refugees outside the country or living in various displacement camps.
"Because these people cannot vote, the results are already decided in favour of certain pro-regime candidates," he said.
A review of the candidate lists revealed that many of those nominated for the council presidencies are pro-regime candidates, he noted, most of whom had played political and military roles in support of the regime in recent years.
Elections such as these, in a country that has been embroiled in war for years, must be held under the supervision of the UN and international monitoring organisations to ensure the integrity of the proceedings and the results, he said.
Elections raise concerns
These elections raise a number of concerns, Syrian journalist Mohammed al-Abdullah warned Diyaruna.
The names of regime loyalists and political affiliates are included on the candidate lists in the provinces that remain outside its control, he noted, including al-Raqa, al-Hasakeh and Deir Ezzor.
"This will ensure that no other candidate opposed to the regime will work in those institutions," he said.
Holding these elections was not part of the discussion towards a peaceful solution to end the conflict, al-Abdullah said, noting that "local administrations are among the fundamental elements to be addressed during the negotiations".
The regime is betting that once these local administrations are re-established, they will not be abolished in the near future, he said, thereby enabling it to ensure it maintains control over these councils.
The way local elections are being held, he said, "it is as if no revolution had taken place to secure civilian rights and the freedom of choice".
'Will anything change?'
In Damascus, election posters mostly featuring incumbents were plastered across public squares, including in the Old City, AFP reported.
A vast majority of the candidates were members of the ruling Baath party or affiliated to it, which deterred some people from casting their ballots.
"Why vote? Will anything change? Let us be honest," said Humam, a 38-year-old working in the Mazzeh district of Damascus, who opted to stay at home.
The number of seats has slightly increased from the roughly 17,000 available posts in the last elections, as smaller villages had been promoted to fully fledged municipalities.
Council members serve four-year terms at the municipal level and are mostly responsible for service provision and other administrative matters.
Syria last held local elections in December 2011, nine months into the conflict.