The persistent efforts by Russia and the Syrian regime to accuse the Syria Civil Defence and some opposition factions of planning to stage chemical attacks in Idlib, might be an attempt to cover up for a real chemical attack the former are preparing against civilians in the region, Syrian activists tell Al-Mashareq.
They also aim to portray Syria Civil Defence members, also known as the White Helmets, and all opposition factions as "terrorists" who possess prohibited chemical materials, they said.
Russia claimed Tuesday (September 11th) that Syrian opposition fighters had begun working on film footage that would be presented to the world as the aftermath of an alleged chemical attack by the Syrian army, AFP reported.
The Russian defence ministry, citing Idlib residents, said film crews from several Middle Eastern TV channels -- as well as "a regional branch of a leading US news channel" -- had arrived for the shoot in the city of Jisr al-Shughur in Idlib.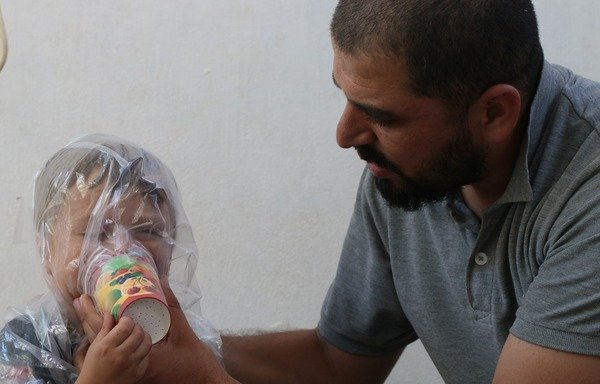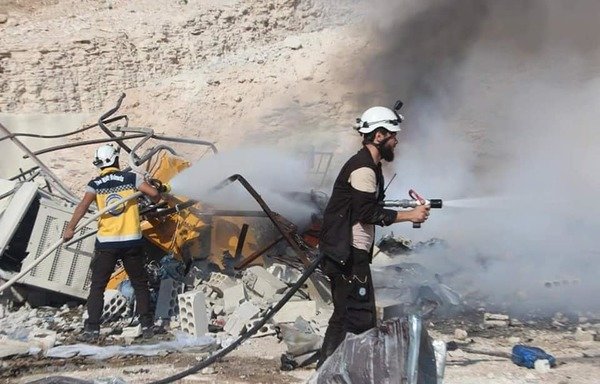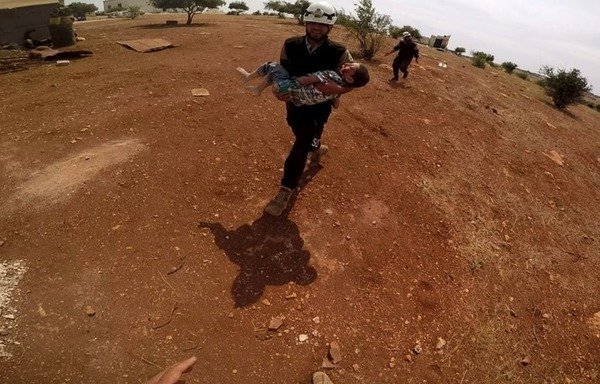 "By the end of the day", all the footage should be handed over to the TV channels which would release it through social media, the defence ministry claimed.
According to the "scenario", White Helmets activists will be "helping residents of Jisr al-Shughur" after the alleged use of barrel bombs by the Syrian army, it said.
Real chemicals would be used to make the footage appear more authentic and also to provide samples of allegedly contaminated soil from the scene, the ministry said.
Idlib province and adjacent rural areas form the largest piece of territory still held by Syria's opposition fighters.
For weeks, regime troops backed by Russia and Iran have massed around Idlib's periphery, with deadly airstrikes, shelling, and barrel bombs falling with increased intensity in recent days.
The West has warned President Bashar al-Assad that his regime would face serious consequences if he used chemical weapons in Idlib.
Accusations pose 'serious threat'
The accusations being made by Russia and the Syrian regime that the White Helmets are preparing for a "theatrical stunt" involving chemical weapons pose a serious threat to the areas outside the regime's control, said Syria Civil Defense media official Khaled al-Khatib.
These accusations heighten concerns that these areas might soon come under attack with chemical weapons by Russia and the regime, he told Al-Mashareq.
"International organisations have confirmed the use of chemical weapons by the regime on at least three occasions during the last few years," he said.
These accusations aim to distort the reputation of the White Helmets despite their recognition by many Western and Arab countries, said al-Khatib.
"The White Helmets have lost 255 volunteers who were killed in the line of duty," he said. Dozens more were wounded, many of whom were directly targeted during rescue operations.
The White Helmets have been raising awareness among residents on what to do in case of a chemical attack.
Since the group does not have the resources or funding to distribute gas masks to residents, their efforts are "limited to informing residents on what to do in such situations", al-Khatib said.
"Many residents have arranged underground shelters to hide in when necessary," he said.
Others have made homemade gas masks by using materials such as cotton and coal stuffed into cardboard boxes or cups, he said, as these materials filter out toxic substances.
'Baseless' accusations
Russia's accusations that media teams are accompanying Syria Civil Defence teams to film a staged chemical attack in Idlib are baseless, al-Khatib said, "as only volunteers and the wounded board civil defense vehicles".
"It is well known that there are no foreign media teams in the region due to the ... risk that the regime might launch a military offensive there," said al-Khatib.
Any footage is usually taken by volunteers affiliated with the White Helmets, wherein every team is accompanied by one journalist who films and documents the rescue operations, he said.
"Some of the helmets also have been fitted with special cameras to document the killed and wounded and the shelling with [toxic] gases and internationally prohibited substances," he said.
Providing cover for attacks
Russia and the Syrian regime have been harping on the possibility of a staged chemical attack in order to accuse opposition factions and civil defence teams of possessing internationally prohibited chemical weapons, said Syrian lawyer Bashir al-Bassam.
The aim is to "divert attention from the massacres they [Russia and the regime] are committing or are about to commit during the assault on Idlib", he told Al-Mashareq.
It provides cover for the regime and Russia in the event an attack with such weapons does actually occur, he said.
Another objective is to portray moderate opposition groups and the White Helmets as "terrorists who must be taken out at any price", he added.
'Unshakeable trust'
Media outlets affiliated with Russia and the regime are focusing their coverage on strategic areas such as Jisr al-Shughur and its surrounding areas, which border regime-controlled areas.
Controlling Jisr al-Shughur would allow Russia and the regime to have fire control over almost the entire Idlib region and control of the road that connects Latakia to Hama and Idlib, said al-Bassam.
This is part of their attempt "to instill fear in the hearts of residents and force them to flee to other areas", he said.
Activist Haisam al-Idlibi said that the focus on Jisr al-Shughur is due to the fact that it can be targeted with short and medium-range missiles similar to those possessed by opposition factions.
These missiles "can be outfitted with chemical agents and used to strike the region, only for [Russia and the regime] to later accuse opposition groups and the White Helmets of being behind any such attack", he told Al-Mashareq.
The rumours that Russia is spreading aim to create a crisis of confidence between civilians and the White Helmets, al-Idlibi said.
"However, this will never happen," he stressed, as citizens' trust in the White Helmets is "unshakeable".
This is attributed to their hard and painstaking work to save lives and the fact that many of them have been wounded or killed in direct attacks by regime and Russian warplanes, he said.