Iraqi forces have boosted their security activity in Ninawa province's southern Hatra district as part of efforts to impose better control over the vast desert areas, a local official told Diyaruna on Friday (September 14th).
During recent raids in the district, security forces killed some members of an "Islamic State of Iraq and Syria" (ISIS) cell and arrested other cell members, according to Hatra's local administration.
On September 9th, a special force comprised of the Ninawa police and the Intelligence Falcons Cell killed three ISIS elements in the village of al-Salal, after chasing them down, engaging them and burning the vehicle they were driving.
The three were named as Hussein Ali Mohammed Obaid, Abdul Rahman Jassim Hussein Shehab and Basem Mohammed Amdid, of the village of al-Aitha in the northern Salaheddine district of al-Sharqat, on the border with Ninawa province.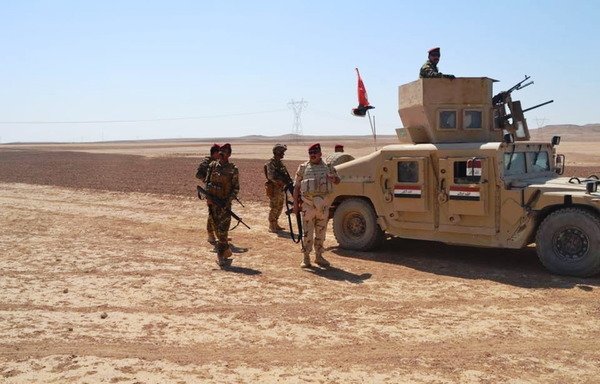 All three had been wanted by the security forces.
Similar operations carried out over the last few weeks have targeted ISIS cells in the areas extending to al-Baj hills, Hatra district mayor Basman Ahmed Sultan al-Ahmadi told Diyaruna.
"There is enhanced security activity in the district, and the security forces are moving there with force, carrying out sudden and effective attacks against the enemy," he added.
"This desert region, which is linked to the provinces of Salaheddine and Anbar, has not witnessed security operations of this intensity before," he said. "But we can see today that there is great interest in the need to secure it and hit any terrorist presence in it."
Security threat subsiding
The threat posed by ISIS remnants hiding out in the desert areas of Hatra is "dissipating, and the situation is now reassuring", al-Ahmadi said.
Forces from the Iraqi army's 20th Division and the local police are stationed in the centre of the district, and it is well secured, he added.
The return of displaced families to the district, however, "is still below the required level, as only 200 families out of 3,000 have returned so far", he said.
This is due to the heavy level of damage to infrastructure resulting from battles to oust ISIS, he said, noting that "all service departments have been damaged".
"We are working hard and doing everything in our power to improve the state of services to encourage people to return," al-Ahmadi said.
"We have activated a water project in the city and set up a huge generator to provide electricity to people until the repair of the power networks can be completed," he said.
"The six schools in the district all need rehabilitation," he said, noting that as a temporary solution, two schools have been opened in trailers to receive students during the new academic year.