There has been a proliferation of scout troops in areas of Syria controlled by the regime and Iran's Islamic Revolutionary Guard Corps (IRGC) that bear the same names as Hizbullah-affiliated scout troops in Lebanon, activists have observed.
These scout troops, known as the Imam al-Mahdi scouts, are graduating large numbers of youth, who promptly join the ranks of IRGC-affiliated militias in Syria, they told Diyaruna.
IRGC-affiliated scout troops first appeared in 2011 in the Sayyida Zainab area outside Damascus and in the towns of Nubl and al-Zahra in rural Aleppo, said activist Bahaa al-Sahli, a resident of Yarmouk camp in south Damascus.
The troops then spread out as the IRGC expanded its footprint in Syria, he told Diyaruna, and they are now seen in Damascus, Latakia, Tartous and Aleppo.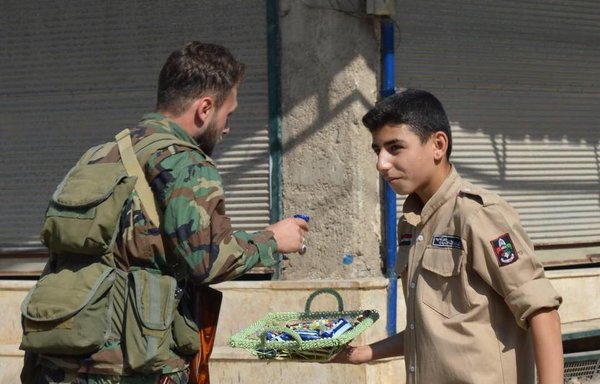 A new scout commission also is being established in Deir Ezzor.
These troops have been making appearances at religious celebrations, marching in parades in military uniforms, al-Sahli said.
"Fanning the flames of religious sectarianism is the cornerstone of the recruitment process for these outfits," al-Sahli said.
A sense of loyalty to the IRGC is reinforced during the recruitment process, he said, based on the notion that Syrian regime-held areas must be defended against a sectarian war being waged against them.
Political and financial pressure
Syrian parents find themselves under political and financial pressure to allow their children to join the scouts, al-Sahli said.
The parents' refusal to have their son join the scouts exposes them to pressures from the IRGC-affiliated militias, while those who join are occasionally rewarded with clothes, schools supplies and textbooks, he said.
Assistance and food aid is distributed during religious celebrations, a method used by the IRGC to take advantage of the difficult financial situation most Syrians are experiencing and further its own agenda.
Imam al-Mahdi scouts camps are no different from military training camps, al-Sahli said, as they begin with grueling physical training and progress to training on the use of all types of weapons.
He likened these camps to the "Cubs of the Caliphate" camps established by the "Islamic State of Iraq and Syria" (ISIS) in Iraq and Syria to train future fighters.
The main objective of Imam al-Mahdi scouts is to recruit children and serve as a human reservoir that supplies fighters to militias in Syria, al-Sharq Centre for Regional and Strategic Studies researcher Fathi al-Sayed told Diyaruna.
An incubator for fighters
"The Syrian version of al-Mahdi scouts is a replica of the version established by Hizbullah in Lebanon," al-Sayed said.
"The party began forming scout troops at the time of its founding, and recruited thousands of children, who later became fighters in its ranks," he said, noting that many of its current fighters are graduates of those scout troops.
The establishment of these troops was observed with interest by IRGC commanders, to the point that Gen. Hessam Khoshnevis of the elite Quds Force [killed in Syria in 2013] was sent to Damascus in 2010 to establish the first scout troops, al-Sayed said.
He was assisted at the time by a number of trainers from Lebanon and Iran.
Bulletins issued by IRGC-affiliated militias in Syria have announced the death of a large number of these child fighters in battle, al-Sayed said.
"This proves their project of turning these children into fighters has been implemented, and that they are being involved in military activities and not only in social scout activities, as they claim in Syria," he said.
Most al-Mahdi scouts killed in Syria hailed from the towns of Nubl and al-Zahra and the city of Homs and its surrounding area, he said, with most initially fighting in the ranks of Lebanon's Hizbullah.
Special units were formed for them, such as the Syrian Hizbullah.
Nothing like traditional scouts
Imam al-Mahdi scouts maintain a façade of being involved in regular scout activities, Damascus resident Haytham al-Haddad told Diyaruna, "but the truth is they are as far as can be from being a traditional scout group".
Children are recruited from the Shia community, and initially the focus is placed on sectarian studies of an inciteful nature, he said.
Then comes the sorting phase under the cover of scout camps, he said, where the children are observed and their strengths are identified. The scouts graduate from these courses fully versed in combat and military arts.
At the age of 16, some scouts become fighters in the ranks of the militia, while others are assigned to other branches or duties, according to their capabilities.
According to al-Haddad, "Damascus residents disapprove of the displays and parades put on by the Imam al-Mahdi scouts on every occasion, and sometimes no occasion at all, as these are alien to Syrian society".
Scout troops existed in Syria in the past, he said, and though they had a partisan character, they were appropriate for children, in terms of their activities, which were far removed from sectarianism and sectarian incitement.