The Syrian Democratic Forces (SDF) on Tuesday (September 11th) announced they have begun the final phase of Operation al-Jazeera Storm to oust the "Islamic State of Iraq and Syria" (ISIS) from Deir Ezzor and al-Hasakeh.
The new push aims to eliminate the presence of ISIS east of the Euphrates River and is being executed in co-ordination with the international coalition and factions opposed to ISIS.
The operation "will clear remnants of ISIS from northeastern Syria along the Middle Euphrates River Valley toward the Syria-Iraq border", the coalition said in a Tuesday statement.
ISIS still controls part of Deir Ezzor and some territory in the south in Syria, though officials say the group has lost control of more than 98% of the ground it once held, AFP reported.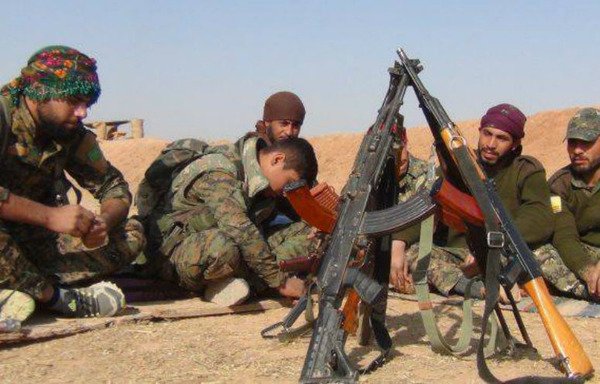 The operation kicked off Monday, with an assault on the villages of Hajin (in rural Albu Kamal), Sousa and al-Shaafa, and al-Kasra in rural Deir Ezzor, SDF officer Farhad Khoja told Diyaruna.
These are the main areas where ISIS elements are holding out, he said, pointing out that the operation also is targeting the border village of Baghuz, which is a rare crossing point with Iraq that the group still controls.
Ahead of the ground operation, there have been airstrikes and artillery fire from international coalition forces to clear the way for the advance of SDF fighters and special operations units allied with them, Khoja said.
These include the Deir Ezzor Military Council, a force comprised of natives of Deir Ezzor and al-Hasakeh provinces.
An SDF commander told AFP on Monday that the new assault had killed at least 15 ISIS fighters.
The coalition said it would not leave Syria once ISIS loses control of the area.
"Moving forward, we will continue co-ordination with the SDF and other partners to promote regional security and stability that will ensure a lasting defeat of ISIS," said Maj. Gen. Patrick Roberson, commander of the coalition's Special Operations Joint Task Force.
Safeguarding civilian lives
"Safeguarding civilian lives and avoiding civilian casualties is a top priority of the operation," Khoja said, noting that to this end, many safe passageways have been secured to enable civilians to flee to liberated areas.
The main route is a passageway that runs adjacent to the town of al-Bahra.
Khoja said co-ordination is ongoing with civilians who remain in the area controlled by ISIS to secure their safe exit in separate groups, "to ensure they do not come under sniper fire as they leave their areas".
A camp has been set up to receive displaced persons from the area of ​​operations, he said.
This has been stocked with food and supplies that will enable the SDF to respond to medical emergencies and shelter civilians for the duration of the operation, he added.