Iraqi forces on Monday (September 10th) launched a surprise attack on "Islamic State of Iraq and Syria" (ISIS) remnants in the Kanous Island area near the northern Salaheddine city of al-Sharqat, killing 19 of them, an Iraqi official said.
A joint force "launched a swift surprise attack yesterday on ISIS remnants in the area of ​​Kanous Island", said eastern al-Sharqat director Jarjis al-Hijab.
The force comprised members of the Salaheddine Operations Command, al-Sharqat police and Iraqi army, supported by the Iraqi air force, he told Diyaruna.
"The attack began with heavy air bombardment of rest-houses that killed nine people from ISIS," he said, adding that six more were killed in an ensuing clash, and "four suicide bombers blew themselves up after they were surrounded".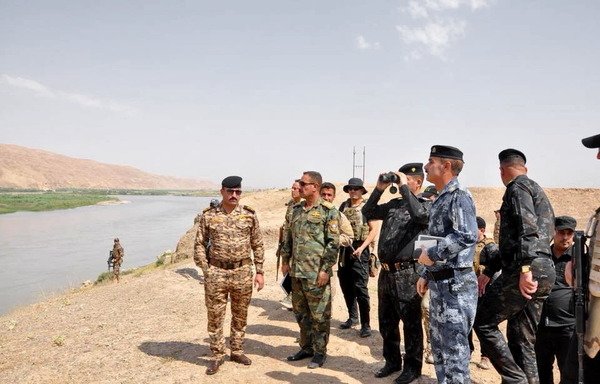 An Iraqi policeman was killed and four others were wounded, al-Hijab said.
"The operation achieved its objectives of crushing the terrorist remnants and thwarting their attempts to reorganise and launch terrorist operations against civilians from those hideouts," he said.
Series of sweep operations
Security forces accompanied by tribesmen in recent days carried out several search operations for ISIS remnants in areas to the east of al-Sharqat, al-Hijab said.
The security sweeps followed several attacks, most recently on September 3rd, when ISIS gunmen opened fire on worshipers as they were leaving a mosque after performing their evening prayers.
One victim, aged 80, was killed in the attack and three others were wounded, before the attackers fled the scene.
"ISIS remnants are still active in the villages and mountains of al-Khanouka, al-Zawiya, al-Naml, Makhoul and Asdira al-Sufla," al-Hijab said.
"They are not many in number," however, he said, with an estimated 30 extremists "engaged with the security forces in attack-and-retreat mode".
These are vast areas that are characterized by rugged terrain -- steep hills, valleys and dense thickets of vegetation --- which provides a natural hideout for ISIS remnants, he said.
"The security forces, in order to enhance monitoring, have installed several thermal cameras on hilltops to observe any abnormal movement," he said.
When unusual activity is detected, they "rapidly intervene to combat any infiltration", he said.
"These cameras are very much helping our troops and tribesmen to secure villages and scattered communities against militant attacks," he added.