A number of fighters from the Syrian regime-allied National Defence Forces (NDF) militia have opted to join militias affiliated with Iran's Islamic Revolutionary Guard Corps (IRGC), a Syrian activist said.
The fighters, who had been stationed at several locations in Deir Ezzor province, including the border town of Albu Kamal, made the switch after the NDF lost several positions it had controlled during recent clashes in the region.
This led to the dissolution of a number of militias operating in the region.
"Tension still prevails in several parts of the Deir Ezzor border region in the wake of fierce clashes between the Syrian regime-affiliated NDF militia and IRGC-affiliated militias led by Hizbullah," local activist Jamil al-Abed told Diyaruna.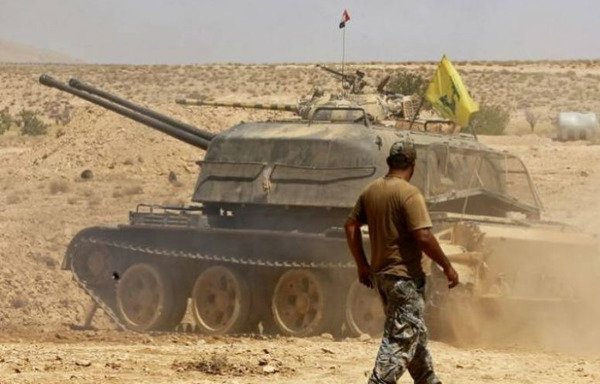 This led to the various IRGC-affiliated militias gaining almost full control of the area, he said.
The IRGC Command in the region announced the dissolution of the NDF militia and the arrest of its commander, Firas Jaham, also known as Firas al-Iraqi, he said.
NDF elements were given the choice of either joining IRGC-affiliated militias or the regular Syrian army — in which case they would be processed to perform mandatory military or reserve service.
Dozens chose to join the IRGC, while some joined the regime's army as soldiers, particularly in the ranks of Brigade 101 of the Republican Guard.
IRGC ushers in changes
The IRGC also replaced its commander in Albu Kamal with a new commander, Hajj Salman, whose first decision was to ban the presence in the region of any fighter who does not belong to one of his militias, al-Abed said.
IRGC-aligned militias include Hizbullah, al-Nujaba movement and the Fatemiyoun Brigade.
"Syrian army soldiers in the area who belong to the 4th and 101st Brigades were given specific areas in which to deploy, away from inhabited areas and main crossings in the region," al-Abed said.
The youth of Deir Ezzor and Albu Kamal are joining the IRGC because of the lack of job opportunities in the region, he said, as the IRGC pays them steady salaries and provides them with food aid and social assistance.
Another incentive for them to join the Iran-backed forces is to evade the years-long mandatory military service imposed by the Syrian regime, he added.
"New members who had previously belonged to the NDF will undergo training and rehabilitation courses in camps in the area at the hands of trainers from Lebanon's Hizbullah, under the supervision of Iranian officers," he said.
This is the latest in a series of moves undertaken by the IRGC to cement its presence in post-war Syria.
Last week, Damascus and Tehran signed a new set of military and defence agreements, which would allow for continued Iranian "presence and participation" in Syria, according to Iranian defence minister Amir Hatami.