Intense airstrikes in western rural Idlib have triggered a wide-scale population displacement, particularly from the Jisr al-Shughur area, Syrian activists said.
Russian and Syrian warplanes on Tuesday (September 4th) began carrying out intensive airstrikes on towns and villages in western Idlib province and in western and northwestern Hama province, activist Haisam al-Idlibi said.
Hardest hit were the towns of al-Janudiyah, al-Badriyah and Kafrdeen, where at least five people were killed, he told Diyaruna. There also were several casualties in Muhambal, he said, where the town market was targeted.
The Syrian Observatory for Human Rights said at least nine civilians, including five children from the same family, were killed, while 10 people were wounded.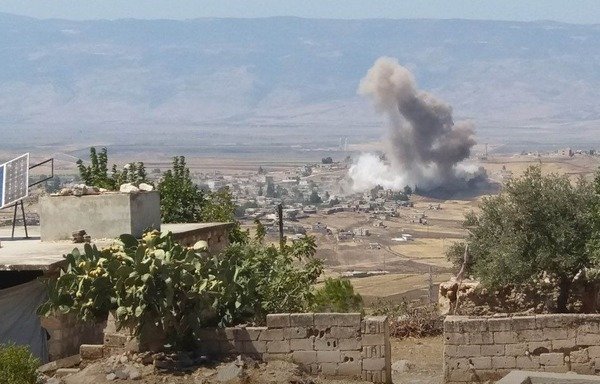 The wounded were being treated in hospitals in the region, al-Idlibi said.
The airstrikes on Idlib resumed after a more than 22-day pause.
The villages that were attacked were in the Jisr al-Shughur and northern Sahl al-Ghab areas, al-Idlibi said.
They include Mahambel, Hirsh Bsonqul, Kafrdeen, al-Janudiyah, Bashlamoun, Baydar Shamsu, Tal Aawar, al-Badriyah, al-Sahan, al-Mansoura, al-Msheek, al-Sirmaniyah, al-Shughur, Inb, Ghani, Sarareef, Jadraya and Sahl al-Rouj.
Wave of displacement
"A massive wave of displacement is under way from the Jisr al-Shughur area and western rural Idlib towards the interior areas of Idlib province, as people seek to escape the shelling and airstrikes," said Idlib activist Musab Assaf.
"Syrian regime rocket launchers positioned in rural Latakia are shelling the same areas that came under airstrikes," Assaf told Diyaruna.
Other areas that have come under fire include the towns of Sarmin, Sarmada, Ariha, al-Maalaqah, al-Zayadiyah, al-Ziyara, Qarqur and Bidama, he said.
Assaf said the resumption of shelling and airstrikes came as a surprise to civilians, despite talk of a pending regime military operation.
"Most people expected that a political solution would be reached to spare the area from suffering the ravages of the war once again," he said.
The UN and aid groups have warned that a full assault could spark one of the worst disasters of a conflict that has already killed 350,000 people and displaced 11 million in seven years.
The International Crisis Group this week insisted a devastating offensive in Idlib could and should still be averted, calling on all brokers to resume negotiations.
In remarks published in Hurriyet daily on Wednesday, Turkish President Recep Tayyip Erdogan talked of a "very merciless process" unfolding in Idlib, warning of the risk that heavy fighting would trigger an influx of refugees.
Talks focus on Idlib
The UN Security Council is due to meet Friday to address the situation in Idlib amid growing fears of an attack and the possible use of chemical weapons.
With the UN warning of a potential "bloodbath" in Idlib province, the US warned President Bashar al-Assad on Tuesday it would respond "swiftly and appropriately" if he uses chemical weapons against his own people.
Erdogan and the presidents of Iran and Russia will meet Friday in Tehran for a summit expected to focus on Idlib.
UN Syria peace envoy Staffan de Mistura said Russia and Turkey held "the key" for a soft solution to the Idlib issue, and urged them to help avert a humanitarian disaster.
He pointed to press reports indicating Syria has set a September 10th deadline for finding a solution before it begins an all-out offensive on the province.
"Let us try to avoid that the last probably major battle of the Syrian territorial conflict... ends in a bloodbath," De Mistura said.