The US, France and Britain on Tuesday (August 21st) threatened to respond if Syrian President Bashar al-Assad uses chemical weapons in the regime's offensive to retake Idlib province.
In a joint statement, the three powers said they were "gravely concerned" over the military offensive in Idlib and the resulting humanitarian consequences.
"We also underline our concern at the potential for further -- and illegal -- use of chemical weapons," they said.
"We remain resolved to act if the Assad regime uses chemical weapons again."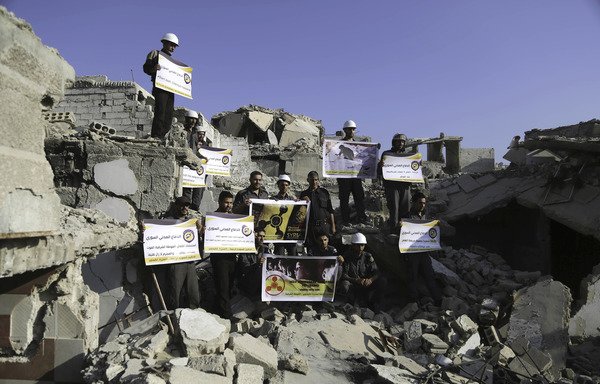 The three UN Security Council powers released the joint statement to mark the fifth anniversary of the sarin attack in Eastern Ghouta that killed more than 300 people.
That attack, widely blamed on the regime, led to a US-Russian agreement to rid Syria of its chemical stockpile and its means to produce the deadly chemicals.
"Our position on the Assad regime's use of chemical weapons is unchanged," said the statement.
"As we have demonstrated, we will respond appropriately to any further use of chemical weapons by the Syrian regime, which has had such devastating humanitarian consequences for the Syrian population," it added.
'We will respond very strongly'
"Just so there is no confusion here, if the Syrian regime uses chemical weapons we will respond very strongly and they really ought to think about this a long time before they come to any decision," US national security adviser John Bolton said Wednesday.
The US, France and Britain in April launched airstrikes on three sites in Syria in response to a chemical weapons attack in the town of Douma that left scores dead.
A year earlier, the US military fired 59 Tomahawk missiles at the Shayrat airbase in Homs province, which was the launchpad for a gas attack on the Idlib province town of Khan Sheikhun, in which at least 86 people were killed.
The Syrian regime has set its sights on retaking control of the northwestern province of Idlib, the biggest area in opposition hands.
The regime holds the southeastern tip of the province that is home to some 2.5 million people -- more than half displaced by Syria's war or bused into Idlib under surrender deals.
The UN Security Council is scheduled to discuss the humanitarian situation in Syria next week.