A series of airstrikes by Iraqi forces in the Anbar desert near the border with Syria has claimed the lives of dozens of "Islamic State of Iraq and Syria" (ISIS) fighters, including leaders who managed to infiltrate from Syria.
On August 7th, a joint force comprised of the army, police and tribes, with air support from the Iraqi air force and international coalition, carried out a massive assault on ISIS locations near the village of Um al-Waz in Anbar's Anah district.
Sheikh Qatari al-Samarmad, a commander from the Anbar tribal force, told Diyaruna the assault was "based on precise intelligence and was top secret".
"Four tunnels in the desert where ISIS members and leaders were hiding were destroyed during the attack," he said.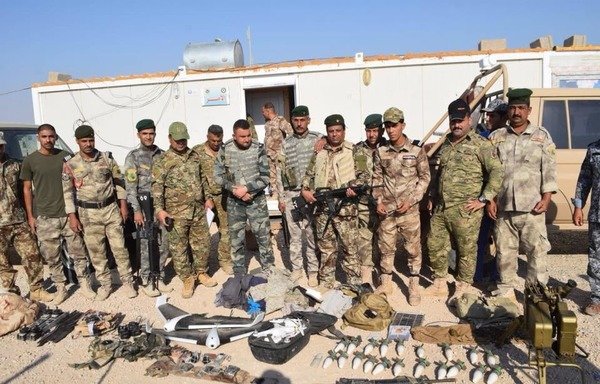 All those present -- an estimated 20 ISIS elements -- were killed in the assault, he said, naming one of them as Iraqi ISIS commander Mohammed Aqil, who had been in charge of the group's fighters in al-Shamia in eastern Anbar.
A number of weapons and vehicles were destroyed in the offensive, al-Samarmad said, including four vehicles mounted with machine guns, three light machine guns, 70 assault rifles and four suicide belts and explosive devices.
Security forces are ready to lead their operations "with high morale and courage", he said, and have demonstrated they are able to extend their reach to any place where extremists can be found, in cities and deserts alike.
Targeting ISIS hideouts
Shortly after the operation, a force from al-Jazeera Operations Command, the 8th Battalion and the Border Guards, with support from the international coalition, launched another assault on ISIS in northern Rawa in western Anbar.
"At first, our forces clashed with a group of terrorists," al-Qaim mayor Ahmed al-Dulaimi told Diyaruna. "After they were surrounded, they entered a cave that was later targeted by an aerial attack."
This left "eight terrorists dead, four vehicles and six motorcycles destroyed, and six suicide belts were found along with some weapons and ammunition", he added.
According to al-Dulaimi, ISIS is still finding it extremely hard to remain hidden or stay put in one place for any length of time.
This is especially true for desert locations along the northern Euphrates, he said.
Operations to hunt down extremists are taking place across vast desert areas, he noted, with attacks continuing to target ISIS hideouts, making it difficult for the group's fighters to move freely without being detected and targeted.
However, he warned, there is the possibility of a higher number of extremists infiltrating into the Iraqi desert from Syria, where the group is under fire.
Border security efforts
Anbar province shares a 400-kilometre border with Syria.
Security forces "are working to fill in the gaps and thwart any attempt by terrorists to try and infiltrate, particularly under the cover of darkness", Anbar provincial council member Karim al-Karbouli told Diyaruna.
"Our territory is secured and our forces are waiting to pounce on any infiltrators," he added.
On August 10th, al-Karbouli said, the 8th Battalion confronted a group of ISIS elements who had tried to infiltrate from Syria and enter al-Qaim near the village of Bir al-Marasna in al-Rumana subdistrict.
"This terrorist group was made up of nine members, seven of whom were killed during confrontations and two of whom were captured," he said.
Security sources told Diyaruna the interrogation of these two detainees revealed they were ISIS commanders from Mosul.
During their confessions to investigators from the 8th Battalion, the two confirmed their cell had crossed into Iraq "according to central orders from the ISIS leadership".
They said they had been instructed not to remain for long in the Anbar desert, but to immediately move to areas perceived as having looser security, such as remote parts of Salaheddine province, in preparation for a wave of attacks.
A number of media reports on August 12th quoted military officials confirming the death of "dozens of terrorists" in the western Anbar desert.
Among them are Iraqi and foreign fighters from ISIS and others from an al-Qaeda affiliated group known as "The Guardians of Religion", which is fighting in the Syrian war.
The Iraqi government has continued to support efforts to hunt down extremists and prevent them from infiltrating from Syria, al-Karbouli said, noting that Anbar cities have enjoyed increased security, thanks to these campaigns.