The death toll from a Sunday morning (August 12th) blast at a weapons depot at the entrance to Sarmada in southern rural Idlib that leveled two apartment buildings has risen to 69, local sources said.
The explosion killed 52 civilians and 17 members of Tahrir al-Sham, the Syrian Observatory for Human Rights said Monday, raising an earlier toll.
A dozen children were among the dead.
The explosion in Bab al-Hawa square destroyed two buildings containing more than 30 apartments and a number of shops, activist Haisam al-Idlibi told Diyaruna.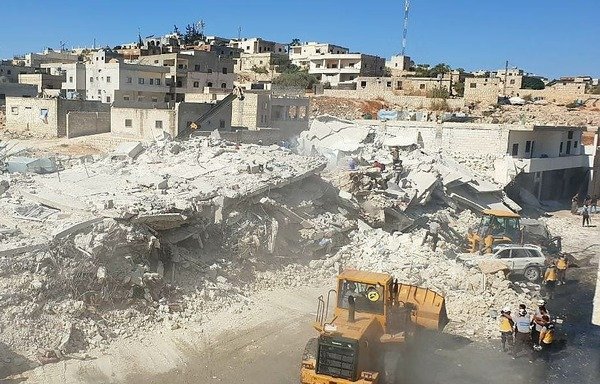 "One of the buildings contained a weapons depot owned by an arms dealer close to Tahrir al-Sham, named as Abu Yazen al-Homsi, who has not been seen since the explosion," al-Idlibi said.
Each of the two collapsed buildings comprised four floors, with four apartments on each floor, he added.
The apartments were occupied by internally displaced persons (IDPs) from the Aleppo region, and the city of Daraya in particular, he said, noting that many of them were the families of Tahrir al-Sham elements.
Rescue efforts continue
After the incident, civil defence workers laboured to remove bodies and those who were still alive from beneath the rubble.
According to civil defence sources, the process will take some time to complete and is proceeding slowly out of concern that there may be unexploded ordnance and ammunition that could explode upon contact.
"Local residents have been vehemently opposed to the proliferation of arms depots belonging to Tahrir al-Sham and other armed factions, and the presence of arms dealers in and around residential areas," al-Idlibi said.
"The arms depot that caused this catastrophe is controlled by Tahrir al-Sham," he noted, "as the owner supplied the group with weapons and ammunition and nothing left the site without the approval of the extremist alliance."