Iraqi provinces are seeing a gradual return of overland traffic and trade as inter-provincial roads are being reopened after the ouster of the "Islamic State of Iraq and Syria" (ISIS).
The critical Baghdad-Ramadi highway was put back into service on July 11th after a three-year closure.
It is one of the most important roads connecting the capital Baghdad with Anbar province in western Iraq and all the way to the border with Jordan and Syria.
The highway underwent temporary repair work as the damage to its infrastructure requires significant time and effort to repair, officials said. Hence, bridges along the road were replaced with temporary detour bridges.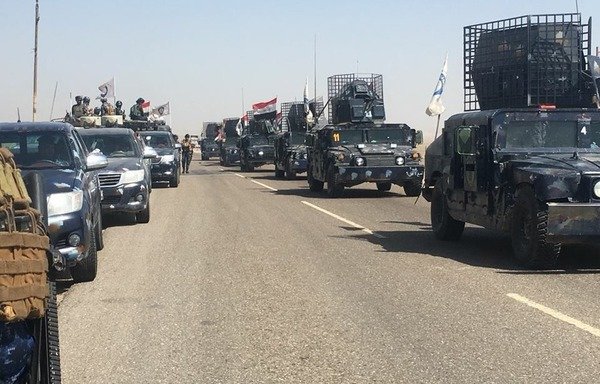 The highway also was outfitted with a main checkpoint equipped with sonar devices to search vehicles, and is being constantly monitored by security patrols.
Vital artery
"The road connects Baghdad directly to Ramadi [Anbar's provincial capital] and is a vital part of the international highway that runs west to the Trebil border crossing with Jordan and al-Waleed crossing with Syria," said Anbar provincial council member Naeem al-Koud.
"When the international highway was fully operational [before ISIS swept through Iraq], our province was generating billions of dollars in revenue annually," he told Diyaruna.
It was an active commercial route and an essential pillar of the economy of Anbar province, he said, adding that commercial activity is gradually returning to normal.
Since the reopening of the Trebil crossing last August, the Baghdad-Ramadi road is once again bustling with trucks and travelers, "albeit not at the same pace", al-Koud said.
This renewed activity will contribute to strengthening trade, boosting travel and increasing revenues, he said.
The entire length of the international highway is being secured by joint forces from the al-Jazeera and Anbar Operations Commands, the Federal Police, the Border Guard Force and tribal forces.
"There are no security problems," al-Koud said. "All that we need is support to conduct repairs and rehabilitation work on the road."
Al-Koud said 100 destroyed bridges have been re-opened in Anbar province, adding that the "Japanese bridge" on the international highway east of Ramadi city will be inaugurated soon.
'Strategic' Mosul-Dohuk road
In addition to the Baghdad-Ramadi highway, several closed roads have been reopened in Anbar since the end of 2017, including the road between Haditha (western Anbar province) and Baiji (Salaheddine province), and the road between Baghdad and the city of Fallujah (eastern Anbar province), also known as the Old Road.
Ninawa's local authorities also have reopened dozens of main roads in the first half of 2018, most notably the strategic road from Mosul to the city of Dohuk in the north.
That land route, which was reopened on March 5th, is one of the most significant in terms of economic impact on Ninawa as it connects the province with the Fish-Khabur crossing on the Turkish side.
The road's closure for more than three years hurt Ninawa province, but as soon as it was reopened, goods are flowing into Mosul's markets again and commercial activity is flourishing, said Ninawa provincial council member Khalaf al-Hadidi.
Travel and tourism between Mosul and Dohuk also are slowly improving, he told Diyaruna.
Increased security
All reopened roads are under heightened security measures as many of them traverse hilly terrain and vast valleys.
Iraqi forces have recently stepped up efforts to secure the Kirkuk-Baghdad road and villages along the route, especially in north Diyala province in the wake of repeated terror incidents there.
"Travel on the Kirkuk-Baghdad road is no longer worrisome because search and monitoring checkpoints are positioned everywhere, and continuous operations are targeting ISIS pockets and cells," Kirkuk provincial council member Maan al-Hamadani told Diyaruna.
Meanwhile, the Kirkuk-Tikrit and Kirkuk-Baiji roads which pass through Hawija district, and the Kirkuk-Mosul road which passes through al-Dibs district are all "very secure and their traffic activity is normal", he said.
They have been under precautionary security measures since their reopening last year, he added.