Regular car and truck traffic has resumed on the road linking the southern and northern ends of Idlib province since the resolution of the Fuaa and Kafraya crisis, a local activist told Diyaruna.
Syrian civilians who had been trapped in the pro-regime towns by hardline groups, led by Tahrir al-Sham, were able to evacuate the area under the terms of a deal brokered July 17th by opposition backer Turkey and regime ally Russia.
The towns, in the centre of Idlib, had been under siege for close to three years, and the road traversing the province that ran through both had been blocked.
"The southern and northern parts of Idlib were almost completely cut off from each other," activist Haisam al-Idlibi told Diyaruna.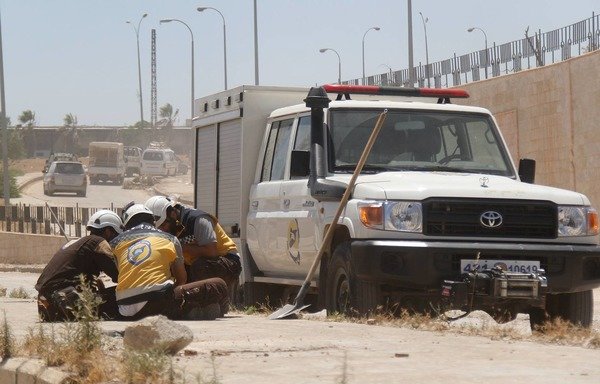 The Bab al-Hawa road came under constant shelling and sniper fire, and had been blocked with earth berms and concrete barriers, he said.
Immediately after the siege was lifted and residents were evacuated from the area, work got under way to reopen the road, he added.
Civil defence teams in Idlib brought in available equipment and removed the earth berms, concrete barriers and other blockages, al-Idlibi said.
The teams are repairing the road as much as possible to open the thoroughfare to vehicles, he said, noting that civilians at both ends of the province began using the road as soon as the main earth berms were removed.
Traffic resumes, but dangers remain
The Bab al-Hawa road is now witnessing brisk traffic activity by civilians and merchants, al-Idlibi said, and commercial activity is expected to boom after the opening of this main corridor.
"Despite the opening of the road, however, both ends of the road are still dangerous due to the proliferation of mines," he cautioned.
Specially trained de-mining teams from the civil defence will gradually remove mines in the areas that could pose the greatest danger to civilians, he said.
In the province as a whole, mines and improvised explosive devices (IEDs) continue to pose a serious threat to civilians in Idlib province.
On Monday (July 23rd), a car struck an IED on the road between the towns of al-Mastuma and Ariha. Four passengers were killed, and the car was destroyed.