Two convoys of evacuees from Syria's southern Quneitra and Daraa provinces were held up by pro-regime fighters linked to Iran's Islamic Revolutionary Guard Corps (IRGC) before being allowed to continue their journey north, a local activist said Monday (July 23rd).
Elements of IRGC-affiliated militias in the Homs region tried to block the evacuation from the Quneitra region of civilians and fighters who had rejected the reconciliation agreement with the regime and opted to head to northern Syria.
Militants stopped the buses for more than 12 hours before allowing them to continue on their way, after direct intervention by the negotiators.
"Gunmen from IRGC-affiliated militias deployed in various parts of Homs province intercepted buses ferrying Syrians from Quneitra and Daraa provinces to the north," activist Faisal al-Ahmed told Diyaruna.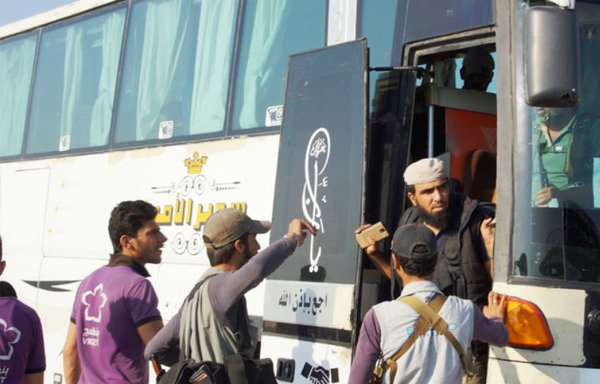 "They forced a convoy from Daraa to head for the southern entrance to Homs province, where another convoy from Quneitra was being held," he said.
The two convoys were detained under tight guard by the militants, he added.
According to eyewitnesses in the convoy, al-Ahmad said, "the militants were lined up on both sides of the buses in fighting positions and prohibited the passengers from disembarking".
The militants wore badges on their shoulders emblazoned with Hizbullah slogans and with a slogan worn by Asaib Ahl al-Haq.
Convoys arrive in the north
The buses were detained for about 12 hours, Al-Ahmad said, and they were allowed to continue to northern Syria after negotiations between the militants and negotiators representing the Syrian regime and Russia.
This is the second convoy to leave the Quneitra-Daraa area since the agreement between opposition factions and the regime went into effect last week.
The convoy comprises about 3,000 people, including civilians, opposition elements, women and children, al-Ahmad said.
The first convoy from Quneitra, which comprised about 2,800 people, arrived in northern Syria on Saturday evening, he added.
As part of this agreement, armed opposition factions handed over their heavy and medium weapons in exchange for the departure of those who rejected the agreement with their personal weapons.
Also pursuant to the agreement, the status of those wanted by regime security agencies was settled, and the call-up of those required to serve in the reserve forces and fulfill their compulsory military service was delayed for a full year.