The "Islamic State of Iraq and Syria" (ISIS) had no intention of keeping its word when it kidnapped six Iraqis to demand a prisoner exchange and then executed and dumped their bodies before its own deadline had expired, experts said.
The group fully intended to kill the men it abducted, leaving their children fatherless, they said, and had no intention of freeing "all" its women prisoners as it claimed -- just a select few who were the wives of its high-ranking elements.
In an incident that outraged Iraqis, ISIS abducted the six men in the Hamreen area and showed them in a video on June 23rd, threatening to execute them if Baghdad did not release ISIS women held in its prisons within three days.
On June 27th, the Iraqi army said it had found the bodies of eight people along a highway linking Baghdad with Kirkuk, including the six abductees.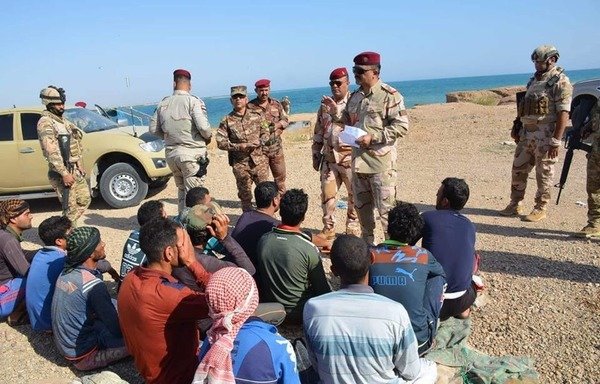 The corpses found at Tel Sharaf in Salaheddine province were decomposing and had been strapped with explosive vests.
Investigations have revealed they had been executed hours after the video was released, and that ISIS had never intended to stick to its own deadline.
'Deception is their religion'
ISIS tried to pretend it wanted to save all its women from Iraqi prisons, "when in fact it only wanted to rescue a limited number of them", said Hussain Allawi, who teaches national security at al-Nahrain University.
The group only wanted to free the wives of its leaders, he told Diyaruna, "while the rest could go to hell".
"They are hypocrites and only care about their narrow special interests," he said. "Deception is their religion."
Among the prisoners ISIS wanted to free is Mona al-Khlifawi, the wife of Samir Abd Mohammed al-Khlifawi, a high-ranking ISIS commander who was close to Abu Bakr al-Baghdadi, researcher Hisham al-Hashimi told Diyaruna.
After the bodies were found, Iraqi forces on July 4th launched a major operation, "Vengeance for the Martyrs", to hunt down ISIS cells, and have arrested a number of extremists and destroyed hideouts and resthouses.
The Iraqi government began its search for the six men as soon as it learned of their kidnapping, and has made it clear it will not negotiate with extremists.
"They were adamant not to negotiate with ISIS because it is a terrorist group that cannot be trusted, as evidenced by the early findings of the investigation into the killing of the six abductees," al-Hashimi said.
'No humanitarian values'
Security expert Maan al-Jubury said it is not unusual for a group like ISIS to release deceptive and false propaganda, such as the video of the six abductees.
"The horrendous crimes of this group and its terrible history in Iraq does not lend it any credit or a minimum level of trust," he told Diyaruna.
"Iraqis are fully aware of this, and that is why they supported the government's efforts to strike down with an iron fist on all terror remnants as soon as they learned about the abductees," he said.
"ISIS is not a group governed by moral or humanitarian values, nor does it uphold international laws and systems so we can negotiate with them," he said. "They are a bunch of barbarians whose sole purpose is to kill and terrorise."