Reconstruction efforts in Mosul's Old City face significant challenges due to the scale of the destruction resulting from the war with the "Islamic State of Iraq and Syria" (ISIS), local officials tell Diyaruna.
The Iraqi government in late June announced it has earmarked 20 billion Iraq dinars ($17 million) for the Old City's rehabilitation.
Mosul authorities conducted a June 28th campaign with city residents to remove rubble from the streets, and have "plans to restore the historical and bright face of old Mosul", said Duraid Hikmat, an adviser to the governor of Ninawa.
"Committees were formed to oversee reconstruction, and an inventory of damages has been prepared," he told Diyaruna.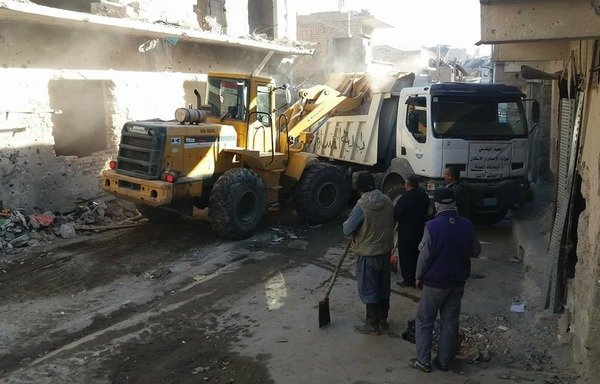 Work is ongoing to remove rubble from buildings damaged as a result of street fighting that took place in the city's narrow alleyways, he said.
The municipality of Mosul has dispatched 300 bulldozers to clean up the city with direct help from the local population, Hikmat said, adding however that the allocated funds will not be sufficient to complete the necessary work.
Rebuilding family homes
Houses in Mosul's Old City were the hardest hit, with 2,700 residential units displaying varying levels of damage, Ninawa provincial council services committee member Hosam Eddin al-Abbar told Diyaruna.
"Leaving these houses as they are means their owners will remain homeless and their suffering will continue in the displacement camps," he told Diyaruna.
At least 120,000 internally displaced persons (IDPs) hail from Mosul's Old City, which covers an area of nine square kilometres in the western part of the city.
"Waste has been removed and a number of streets and alleyways are now open," he said, with services such as water and electricity provided in some neighbourhoods.
"The road ahead is still long and difficult, since the government's capabilities are limited and efforts by international organisations do not cover our needs," al-Abbar said.
Work moving at a slow pace
Mosul's Old City requires "comprehensive reconstruction of all its neighbourhoods", said Shirwan al-Dobardani, who won the recent parliamentary elections for Ninawa province, but has yet to take office.
Old Mosul has seven gates and each is a residential area: Bab al-Tob, Bab Sinjar, Bab Lakash, Bab al-Bayd, Bab al-Shams, Bab al-Saray and Bab al-Jadid. Al-Sarchakhana, al-Farouq, al-Shifaa and al-Zanjeeli are considered the most important old neighbourhoods.
"A year after the liberation of Mosul, most of these neighbourhoods are still filled with waste and suffer from a shortage in public services," al-Dobardani said.
"Work there is moving at a slow pace, since there are huge challenges that require a work plan and co-ordination between Iraq and the international community to be solved," he said.
The UN Development Programme is among the agencies providing support for reconstruction efforts for infrastructure and homes.
But in addition to damaged homes and infrastructure, historic sites also need attention, he said, noting that Iraq signed an agreement with UNESCO and the UAE on April 23rd to rebuild al-Nuri Mosque.
ISIS is responsible for destruction on a massive scale, al-Dobardani said, noting that "it is not an easy feat for life, in all its details, to resume".