Less than a month after liberating the al-Hasakeh province town of al-Dashisha from the "Islamic State of Iraq and Syria" (ISIS), the Syrian Democratic Forces (SDF) have made real progress in clearing mines, officials and residents said.
ISIS had strewn the entrances to the town and its perimeter with mines to prevent the entry and exit of civilians and impede the advance of the Arab-Kurd alliance, SDF officer Farhad Khoja told Diyaruna.
Since June 17th, when the southeast al-Hasakeh town was liberated, he said, most of the area has been cleared of mines and residents have started to return.
The area around al-Dashisha is characterised by rough desert terrain, Khoja said, and the local population relies heavily on breeding and selling livestock, "hence the removal of mines was a priority for them".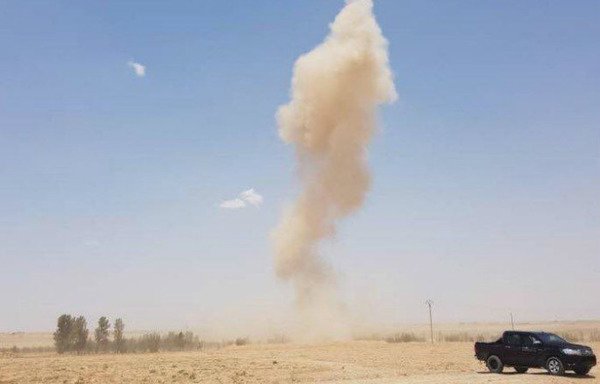 The SDF have had to clear mines and improvised explosive devices (IEDs) planted by ISIS as they advance in eastern Syria as part of operation al-Jazeera Storm.
Mines removed 'in record time'
"The mines planted by the group vary in type, but most involve daisy chains, where a number of mines are connected to one detonator and designed to explode over a wide area to cause maximum damage," Khoja said.
Anti-personnel mines and anti-tank mines also have been planted, he added.
The source of the mines also varies, he said, noting that some are "purchased from other factions or seized after the capture of areas in Iraq and Syria", while others are locally manufactured in the group's factories.
These come in various shapes and colours that blend with the terrain, he said, adding that "this makes finding and dismantling them extremely difficult".
Life is gradually returning to normal in al-Dashisha and other areas liberated by the SDF as they are cleared of mines and remaining pockets of ISIS fighters, al-Hasakeh media activist Ammar Saleh told Diyaruna.
There is full co-operation between the SDF and local residents, who have been helping to identify individuals suspected of belonging to ISIS, he said.
"In a relatively record time, engineering teams have removed mines from the entire town and a perimeter that is dozens of kilometres wide," he said.
Mine clearing operations are ongoing in the area, he said, with residents reporting any suspicious object they find to SDF patrols and bases.
Mines are collected and detonated away from populated areas, Saleh said.
Crossing point with Iraq
Al-Dashisha is of great importance "due to its proximity to the Iraqi-Syrian border, and as it served as a main crossing point for ISIS elements", Saleh said.
A number of families and tribes straddle both sides of the border, which makes movement between the two sides a daily necessity for them, he said.
"Hence, the removal of mines was vital, as it would speed up the return of normal life, trade and the transport of goods," he added.
While ISIS controlled al-Dashisha, residents suffered a near-total lack of services, particularly water, fuel, household gas and electricity, said former teacher and al-Dashisha native Mashaal Ali.
"Thanks to the intensive operations conducted by the SDF, the group's remnants are being hunted down and the mines that littered the area are being cleared," he told Diyaruna.