Iraqi forces have been mounting consecutive offensives deep into the western Anbar desert to eliminate "Islamic State of Iraq and Syria" (ISIS) remnants.
The operations have met with local support as residents of the targeted towns immediately report any suspicious activity, Iraqi officials tell Diyaruna.
This joint co-operation is evidence of the population's rejection of ISIS as an ideology and as a group, they said, and has left militants without a safe haven.
In the Anbar border town of al-Qaim, residents have been helping the security forces clear the desert of ISIS remnants and confront infiltrators from Syria.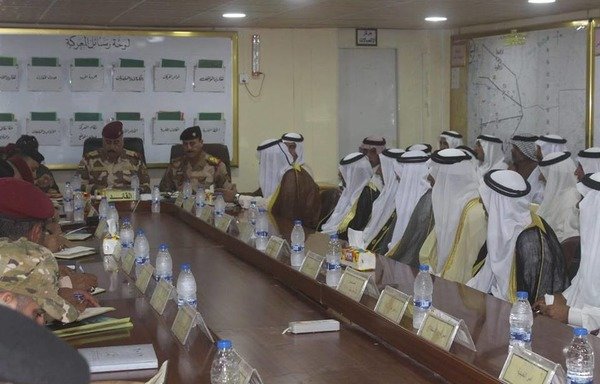 "The situation has changed; the desert is no longer a refuge for ISIS," al-Qaim mayor Ahmed al-Dulaimi told Diyaruna.
"The biggest loss for terrorist elements is popular support, and this means that they are now exposed and are not safe from being targeted," he said.
ISIS in disguise
ISIS remnants are now forced to hide, al-Dulaimi said.
"They might disguise themselves as shepherds or set up their hideouts as bedouin tents to escape detection, but they are quickly flushed out," he said.
"People in the desert villages as well as shepherds watch for these terrorists and quickly inform the authorities," he added.
The true nature of ISIS has become clear to all, he said, and "even those who were sympathisers are now their fiercest detractors".
Local residents have helped the security forces locate several hideouts, he said.
"Since mid-June, locals have provided information that has led to the discovery of two ISIS tunnels and two hideouts in the heart of al-Qaim desert," he said, as well as two four-wheel drive vehicles containing machine guns.
Tip-offs from locals also led to the death of six militants who took cover in a shelter and to the discovery of a weapons cache in al-Qaim's al-Sanjak, he said.
The weapons included five anti-tank missiles, a suicide belt and a large number of mortars and two explosive devices, he added.
Blocked at the border
"ISIS elements are sparsely scattered across the desert in the province," Anbar provincial council member Karim al-Karbouli told Diyaruna.
"They exist as pockets here and there and the danger they pose is limited as they no longer have power," he said.
Aerial bombardment, search patrols and the co-operation of locals with security forces have prevented ISIS remnants from moving freely, he added.
Security operations usually reach al-Rutba desert in the south and stretch north towards the upper Euphrates River, close to the Syrian border, said al-Karbouli.
In the latest such operation on June 16th, a large force from the Anbar Operations Command, army air force, border patrol and tribal forces launched a campaign to clear al-Rutba's desert and the border area from sleeper cells.
ISIS elements also are scattered on the other side of the border in Syria, particularly in Hajeen, al-Baghouz, al-Sousa, he said. "Our air and ground forces are hunting them down and preventing them from being able to penetrate."
Tribes fight terrorism
Local tribes stand united behind the security forces and are focused on combating terrorism, said Ahrar al-Furat party chairman Sheikh Abdullah al-Jughaifi, former commander of the tribal mobilisation forces in Anbar.
"We are confident when we say that not one tribe or individual wants to turn back the clock and once again experience murder, crime and take flight, which was the case under ISIS," he told Diyaruna.
"On the contrary, all the people in the cities and the outskirts share a high sense of patriotism and form a strong front in the face of the terrorists," he said.
Al-Jughaifi noted that the remaining terrorist elements in the Anbar desert are diminishing due to the military strikes and popular rejection.
"The locals have now become intelligence sources that give the security services detailed information, which is key to the success of any security effort," he said.