Iraq's desert areas continue to be vulnerable to "Islamic State of Iraq and Syria" (ISIS) attacks, despite security campaigns targeting the group's remnants, local officials tell Diyaruna.
Seven shepherds and farmers were found murdered on June 19th after ISIS elements kidnapped dozens of villagers in the western Salaheddine desert.
A day earlier, ISIS attacked remote villages and abducted 30 people, including shepherds and farmers, said al-Dour district council chairman Ali al-Nawaf.
"The bodies of seven of them have been found and security forces are searching for the others," he told AFP at the time.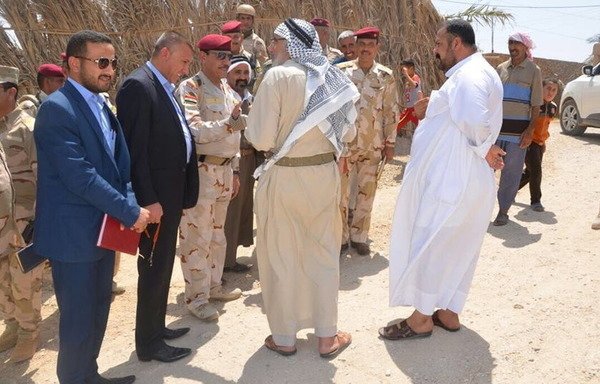 The victims, in pictures posted on social media, were discovered with their hands tied behind their backs and eyes bound with red-and-white keffiyehs.
Local residents belong to the pro-government Shammar tribe, which has made them a target of ISIS retaliation.
A threat in desert areas
ISIS elements are still deployed in the desert that stretches from southern Mosul to the western al-Jazeera area of Salaheddine province, all the way to Anbar, al-Nawaf said.
This area is vast and difficult for Iraqi forces to fully secure, he said, adding that local residents have been helping with security efforts.
"Terrorists are hiding in caves and tunnels and they emerge at night and attack nearby villages, or shepherds during the daytime, when security is not as strong," he said.
Continued aerial surveillance is needed to supplement any ground security efforts and achieve early detection and targeting of militants, he added.
"ISIS is completely finished in the cities, but it still poses a threat to the remote and desert areas [of Iraq]," al-Rutba mayor Imad al-Dulaimi told Diyaruna.
"ISIS remnants are not taking the risk of appearing in public because they cannot confront the security forces," he said. "They have returned to hit-and-run tactics and hiding that was common for them in the years before they occupied the city of Mosul."
ISIS has lost ground and the support of the local population, he said, adding that its attacks on shepherds and farmers in remote areas are "clear proof" of its weakness.
Motivated by money, revenge
Kidnapping for ransom money is the last resort for ISIS remnants, who are increasingly desperate for funding, al-Dulaimi said.
On June 19th, ISIS elements abducted six men in al-Rutba who were owners of local construction material factories, he said.
"The incident seems to be motivated by ransom money," said al-Dulaimi, adding that security forces are combing the desert in search of the missing men.
ISIS was not able to infiltrate the cities due to the tight security in place during Ramadan and Eid al-Fitr, so it has committed cowardly acts instead in remote areas, said Anbar provincial council member Naeem al-Koud.
The group's remnants are committing these crimes to achieve "a fake victory at any price so they can lift their morale", he told Diyaruna.
"The crimes indicate this is in retaliation against the residents of remote villages, particularly the farmers and shepherds that have refused to provide any help or support for terrorism and instead offered their support to the security forces," he said.
Security forces "firmly control the borders, and the pre-emptive strikes on enemy hideouts in the desert are unrelenting", he said, adding that tribal forces are playing a significant role in the security campaigns.