The "Islamic State of Iraq and Syria" (ISIS) group's recent kidnapping and execution of eight Iraqis has sparked outrage and widespread public condemnation in the country.
The Iraqi army said Tuesday (June 27th) it has found the bodies of eight people along a highway linking Baghdad with Kirkuk, including six who had been abducted by ISIS and appeared in a video last week, AFP reported.
The corpses found at Tel Sharaf in Salaheddine province were "decomposing and had been strapped with explosive vests", said Diyala Operations Commander Lt. Gen. Mizher al-Azzawi.
"The corpses showed signs of gunshots in the head and in different parts of the body," he told Diyaruna.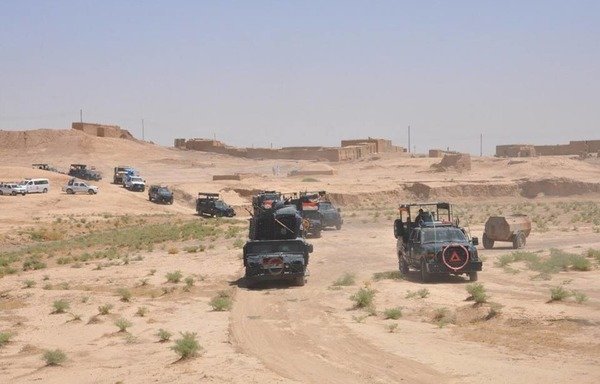 'Treachery and defeat'
On Saturday, ISIS threatened to execute six captives if Baghdad did not release ISIS women held in its prisons within three days.
In a video posted to the group's Amaq propaganda outlet, the extremists displayed six men with badly bruised faces they said were Iraqi police or members of the Popular Mobilisation Forces (PMF).
As soon as the video was released, a large security force launched a campaign to rescue the kidnapped men, who hailed from Karbala province and the Anbar city of Ramadi.
"The bodies were transported to the forensic medicine unit at a hospital in the city of Tuz Khurmatu and initial examination showed that the execution took place several days earlier," al-Azzawi said.
ISIS elements "committed this heinous act a few days ago and did not abide by the deadline provided in the video", the Security Media Centre said in a statement Wednesday.
"We will not rest until these miserable elements who know only treachery and defeat receive their punishment," it said.
'Their blood is proof of our unity'
Over the past few days, the fate of the abductees had occupied the mind of the Iraqi people as many expressed sympathy and solidarity with the victims' families.
"We were shocked by the news that the victims' bodies have been discovered. We were hoping that our troops would liberate them," ​​Thamer Said, 32, of Baghdad's al-Ghadir neighbourhood told Diyaruna.
"But ISIS is showing its ugly face once again, taking innocent lives in an absolutely despicable, vile manner," he said.
"This is another crime in the terrorists' record of crimes," said Khader Fadil, 41, from Baghdad's al-Doura neighbourhood.
"The victims are Sunnis and Shias; their blood is proof of our unity and that the remaining terrorists' fate can only be death," he said, calling for "stepping up efforts to wipe out all terrorist pockets".
Zeina Adnan, 38, from al-Iskan neighbourhood in Baghdad expressed her confidence in the Iraqi forces' ability to crush the remaining ISIS elements.
"This crime should not go unpunished," she told Diyaruna.
Fadel al-Gharawi, who serves on Iraq's Independent High Commission for Human Rights, called on the government to quickly find the perpetrators and bring them to justice.
"In committing this act, the terrorists seek to spread fear," he told Diyaruna. "They must not be allowed to achieve their goals."
"Such crimes push us to unite against ISIS's remnants and eliminate them," he added.