Residents of the Kirkuk province town of al-Hawija have been fostering stability by building a strong relationship with the security forces that is founded on mutual trust, officials tell Diyaruna.
This co-operation has led to the arrest of high-level "Islamic State of Iraq and Syria" (ISIS) elements and to the uncovering of militant hideouts, they said.
Leaders, tribes and the federal police in al-Hawija hold regular meetings to discuss various issues of concern.
"Almost every day, we have consultations with the local population, and we talk to them about the security of their areas and their daily affairs," police spokesman Col. Abdul Rahman al-Khazaali told Diyaruna.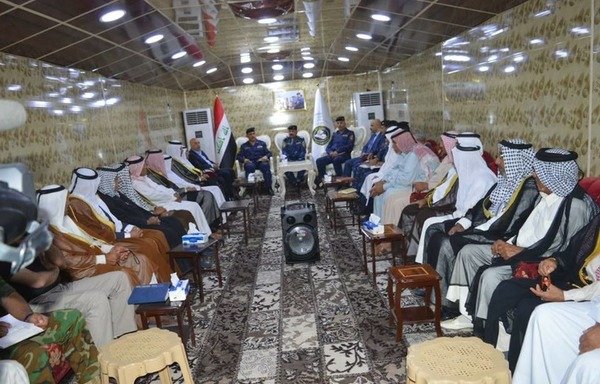 "People have an awareness when it comes to security, and they help and support our forces to do their jobs efficiently," he said, stressing the importance of intelligence and tip-offs provided by the civilian population.
"As soon as they notice something suspicious, they immediately inform us and we do the rest," he said. "This information helps us reach terrorist targets and make our efforts more efficient and effective."
"As a result, we have managed to detain several dangerous terrorists and find weapons caches and explosives in remote locations," al-Khazaali said.
Intelligence tips provided by the local population have helped uncover tunnels and safe houses that contain large amounts of explosive devices, ammunition and a variety of weapons, he added.
Co-operation fosters stability
In addition to hunting down ISIS remnants, the police support community reconciliation efforts and peaceful co-existence, creating a secure environment to which internally displaced persons (IDPs) can return, al-Khazaali said.
"The 6th Division of the federal police is playing a big role in this regard," he said, noting that it has helped many people return to their neighbourhoods.
"Increasing local support for the security forces is an expected outcome from the long suffering residents endured as a result of terrorism," al-Hawija tribal forces commander Sheikh Wasfi al-Asi told Diyaruna.
"People have been embittered by terrorists over the past three years and it is only natural for them to now co-operate to wipe out terrorism from their areas," he said.
ISIS has few local sympathisers who can provide it with support and refuge, he said, pointing out that "people have experienced nothing but tragedy and nobody would even think of repeating this painful experience".
"Only a few ISIS elements are hiding in the remote villages of al-Hawija and they do not have the ability to attract and deceive new recruits," al-Asi said.
Government action required
It is essential to build trust and constructive co-operation between local residents and the security forces, Kirkuk provincial council member Maan Mohammed al-Hamadani told Diyaruna.
"Al-Hawija is an administrative unit that stretches across 200 kilometres and includes 5,000 villages," he said, making it difficult to ensure security without the help of the local population.
Several of the remote villages remain uninhabited since their populations were displaced by ISIS, al-Hamadani noted.
In these areas, he said, many of the displaced are farmers who require state support for irrigation water in order to return and tend to their lands.
These abandoned villages pose a danger as they can be used as militant hideouts, he said, calling for immediate action to address this issue.