A new film by acclaimed Iraqi director Mohammed al-Daradji, about a would-be female suicide bomber who has a change of heart, has won acclaim for its anti-sectarian message.
Set on the day of Saddam Hussein's execution, December 30th, 2006, "The Journey" tells the story of Sarah, a young woman who is about to blow herself up in a crowded train station in the heart of Baghdad.
A moment before detonating her explosive vest, Sarah, played by Iraqi actress Zahraa Ghandour, is taken on an imaginary journey with the surrounding passengers to learn about their lives and suffering.
After witnessing the pain of a man who lost his only son when he was abducted by a terror group, Sarah reconsiders her convictions.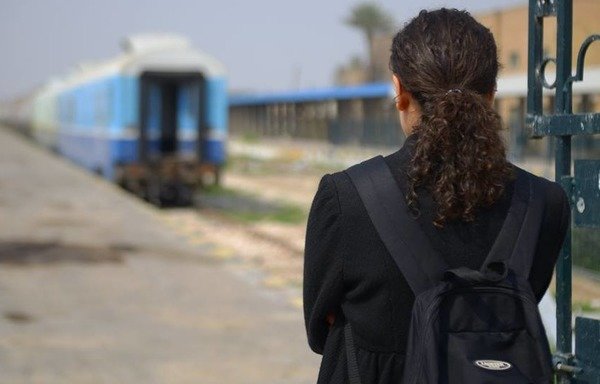 The film, which is based on a true story, attempts to "delve into the psyche of the suicide bomber to uncover what is left of her emotions and feelings", al-Daradji told Diyaruna.
"The message in the film is that life and good prevail and that it is a plausible scenario for a suicide bomber to find their humanity that was lost due to terrorist indoctrination," he said.
Before screening at Baghdad cinemas, The Journey was presented at 15 international film festivals, including the Dubai International Film Festival 2017 and the Toronto Film Festival. It won several awards, including best long feature film, at the 10th Muscat International Film Festival.
In July, the film will be screened in cinemas from Morocco to the Gulf.
'Iraqi kindness and honour'
Amir Jabara plays the role of Salam, a complex character who plays a pivotal role in building up to the tragic events of the film.
"Salam's behaviour does not seem to be normal, but he epitomises genuine Iraqi kindness and honour," Jabara told Diyaruna.
"When Salam discovers that this girl is hiding explosives, he instinctively tries to protect his family instead of saving himself," he said. "He begins to empathise with the suicide bomber and becomes an active part of her conversion."
The Journey is an important Iraqi production that addresses the issue of terrorism and extremism head on, Jabara said.
"Our message is clear: we want those whose minds have been indoctrinated to reconsider and discover the truth on their own," he said. "This film stands strongly against extremism and the kind of thinking that produces violence."
Music conveys cultural heritage
The film's soundtrack is inspired by old Baghdadi tunes.
"We chose Iraqi music to convey the cultural heritage of the film and its connection to Iraqis and their environment in all its details," said Maestro Ali al-Khassaf, who composed the soundtrack.
Al-Khassaf also played the character of the returned prisoner of war.
"In this film, we managed to reflect the true image of Iraqis who are brothers and cannot be torn apart by terrorism," he said. "We will stay this way because this is our legacy and destiny."
Film provides a medium for conveying messages and creating positive societal change, al-Khassaf said.
"That is why we want to take advantage of our artistic abilities to confront terrorist ideology," he added, noting that the film "has consistently received critical acclaim and has become widely popular among audiences".