Iraqi forces are close to completing the construction of a concrete wall that gives Baghdad an additional layer of protection from infiltrators who might pose a security threat, local officials told Diyaruna.
The Baghdad Operations Command began work on the wall, which is part of a wider security effort to fortify the Iraqi capital, in early 2016.
"The security wall surrounds the capital from three sides, the north, west and south," Baghdad provincial council security committee member Saad al-Matlabi told Diyaruna.
It begins in Baghdad's northern outskirts, which include al-Tarmiyah district, and circles west towards the areas adjacent to Fallujah and Amiriyat al-Fallujah, then south towards al-Yousefiya, al-Latifiyah and al-Madain, he said.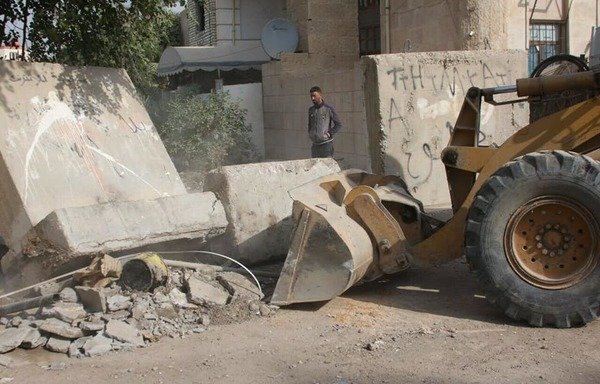 "The security wall is currently about 95 kilometres long and consists mainly of concrete [blast] barriers that were scattered inside the capital and surrounded its main neighbourhoods and public buildings," he said.
Eight central security gates will be set up along the length of the wall to search vehicles and inspect them with explosives-detection equipment, he added, while observation towers will be equipped with cameras and motion detection sensors.
"The security wall will markedly impede the entrance of car bombs," he said, adding that it will close gaps and block the dirt roads that might be used to transport weapons and explosives.
Help from tribal forces
The wall is being constructed by Baghdad Operations Command's engineering unit with the help of tribal Sahwa forces, said Sheikh Khaled al-Janoun, chairman of the Tribal and Dignitaries Council of al-Latifiyah in Baghdad.
Sahwa forces have been helping to install fortifications "around our areas in accordance with the command's instructions", he said, as well as manning the towers, securing areas and providing intelligence.
The wall stretches more than 40 kilometres in the southern outskirts of Baghdad and is "an effective measure to limit the movement of terrorists and prevent them from using our areas as a pathway to threaten the capital", he said.
These areas have been "very dangerous" in the past, he said, as extremist groups used them as a safe haven and launchpad to carry out attacks.
Some ISIS sleeper cells remain in the area, al-Janoun added, but "they are not safe and are being relentlessly hunted down and targeted".
Wider fortification project
The security wall is part of a one billion Iraqi dinar fortification project ($838,000) that includes the excavation of a trench -- two metres deep and three metres wide -- in the areas not protected by the wall.
It also includes the deployment of blimps and electronic systems that will provide 360-degree surveillance around Baghdad.
The fortification project is "not limited to thwarting terror attacks", Baghdad provincial council member Ghalib al-Zamili told Diyaruna.
It also will enable security forces to reduce the number of checkpoints and ease the strict security procedures in Baghdad neighbourhoods, he said, which will ease the burden on both security personnel and residents.
Checkpoints are notorious for causing traffic jams on the streets of the capital, he said, noting that the fortification project will make it safe to reopen more roads and areas closed for security reasons, which will facilitate movement.