Thousands of civilians have fled Syrian regime bombardment on opposition-held areas of the southern province of Daraa, the Syrian Observatory for Human Rights said Thursday (June 21st).
"More than 12,000 civilians have fled their homes in the last three days after regime forces intensified their shelling and airstrikes on eastern areas and villages of Daraa," said Observatory head Rami Abdel Rahman.
Civilians fleeing areas including al-Hirak and Busra al-Harir were heading to nearby villages under opposition control, he said.
The UN Office for the Co-ordination of Humanitarian Affairs reported that as of Wednesday, 2,500 people had fled one area in the eastern countryside.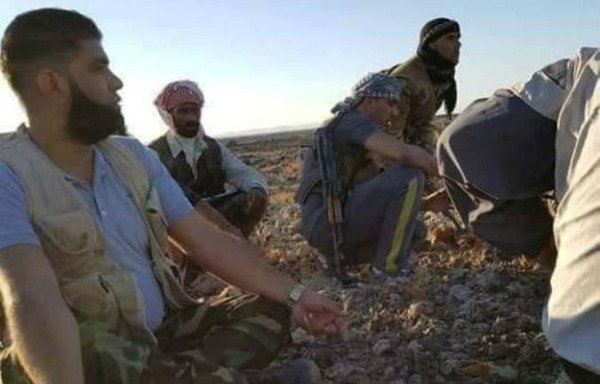 Opposition fighters control around two-thirds of Daraa, but the regime holds a sliver of territory in the centre of the province.
The areas in eastern Daraa bombarded in recent days lie on a strip of land flanked by regime-held territory to the east and west.
Rising tensions
After a string of military victories against opposition enclaves outside Damascus, the regime has set its sights on retaking opposition-held areas of southern Syria -- whether through negotiations or a military operation.
Tensions have been rising in the area between Daraa and Sweida in particular, which have witnessed an exchange of artillery fire and heavy regime airstrikes, Free Syrian Army (FSA) officer Yasser al-Turkmani told Diyaruna.
Rigorous efforts have been made to calm the situation before it fully explodes, the Daraa-based officer said, given the sectarian sensitivity that will accompany fighting in this region, which is the main stronghold of the Druze sect in Syria.
"Regime forces have been trying to apply psychological pressure by dropping leaflets calling on residents to reject the presence of opposition factions and leave the area, as they did in Eastern Ghouta," he said.
Iran-affiliated militias
Al-Turkmani said the regime has brought in a large number of affiliated militias, including fighters from Lebanon's Hizbullah and militias affiliated with Iran's Islamic Revolutionary Guard Corps (IRGC).
Tensions have been highest in the town of al-Mseikeh in western rural Sweida, and the villages of Busra al-Harir and al-Lajat, which have been under constant airstrikes, al-Turkmani said.
There have been fierce clashes along the Harran-Duwaira axis, in the city of al-Baath in Qunaitra province and the city of Daraa, particularly al-Hara area.
Al-Turkmani said the tensions intensified after opposition fighters shelled the regime-controlled city of Sweida on Tuesday after three years of relative calm.
Regime advances in desert against ISIS
Further north, Syrian regime forces have advanced against the "Islamic State of Iraq and Syria" (ISIS) after a wave of extremist attacks in the vast Badiya desert, the Observatory said Wednesday.
"Regime forces launched counter-attacks against jihadist positions in the Syrian Badiya, notably to the east of Palmyra," said Abdel Rahman.
On Wednesday regime forces backed by Russian warplanes seized Hmeimeh between the central province of Homs and Deir Ezzor on the eastern border with Iraq, he said.
The Badiya is a vast desert region stretching from central Syria to the eastern border with Iraq, where ISIS still holds small pockets.