The joy of Eid al-Fitr has permeated northern Syria, despite the uncertain conditions caused by Syrian regime airstrikes and almost ceaseless infighting between opposition factions in the region, local activists said.
There have been some social gatherings and Eid festivities, particularly activities intended for children, activist Faisal al-Ahmad told Diyaruna.
The northern regions, including Idlib province and western rural Aleppo, celebrated Eid al-Fitr on Friday (June 15th), with some areas continuing to celebrate through Tuesday.
Some towns and cities are festooned with Eid decorations, and vendors selling Eid sweets have spread out in the streets, al-Ahmad said.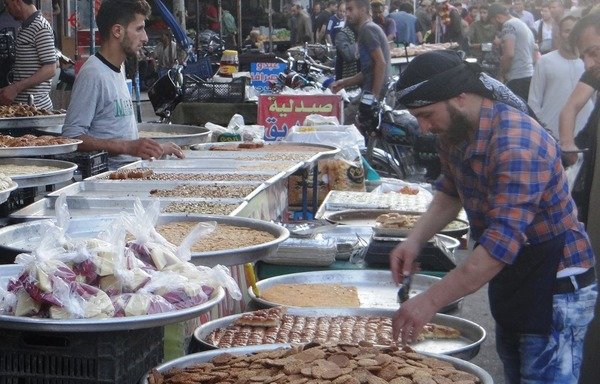 A good number of the Eid festivities are designed for children, with specially organised activities and events for their entertainment, such as theatrical shows and mobile amusement parks brought in for the occasion, he said.
Children turned out in large numbers for these activities, he said, underscoring their "great need for entertainment amid the atmosphere of constant tension".
Celebrations in al-Atareb
The biggest celebrations were in the city of al-Atareb in western rural Aleppo, where a small amusement park was set up for children, who flocked to the city from rural Aleppo and rural Idlib with their families, al-Ahmad said.
The city was very crowded, with streets leading to the squares where the celebrations were being held totally closed to traffic.
In Idlib, an entertainment gathering was held for children and parents in the city of Jisr al-Shughour, where gifts and toys were distributed to children by some local organisations, activist Hani al-Numan said.
"Young men and women from the region volunteered for these activities, which were very well received by residents," he told Diyaruna.
As for the markets, al-Numan said they saw relatively normal activity and were crowded, "though sales were relatively light, due to the high prices and widespread poverty among residents".
Sweets vendors spread out in the main streets of Idlib and other major cities renowned for their sweets such as Maarat al-Numan, whose streets were filled with residents of nearby towns and villages who came to do their shopping.