Fierce fighting is taking place between Tahrir al-Sham and "Islamic State of Iraq and Syria" (ISIS) elements in a rural area of northern Syria, an activist said.
More than a dozen militants from both sides have been killed or wounded in the clashes, and a night curfew has been imposed in many parts of Idlib, activist Musab Assaf told Diyaruna.
Battles between Tahrir al-Sham and Iraqi ISIS elements are taking place in the rural border areas of western Idlib, he said, particularly in the hinterland of the city of Salqin.
"These were triggered by disputes between Uzbeki elements of Tahrir al-Sham and Iraqi ISIS elements from the Mosul region," he said, noting that the two sides had agreed that the ISIS elements would stay in the area of Kafr Hind after they had arrived from Mosul.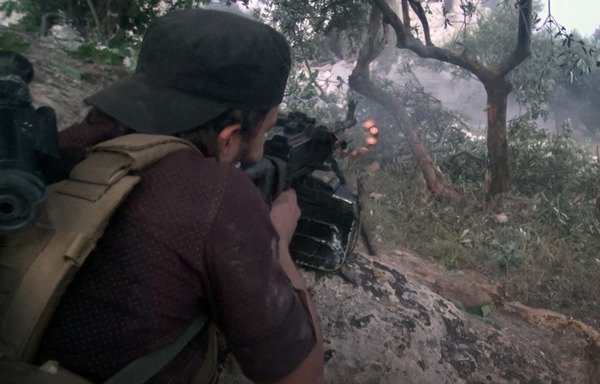 "Tahrir al-Sham exploited the dispute to give the impression that it has launched an operation to pursue ISIS elements carrying out assassinations and bombings in the Idlib region," Assaf said.
In a statement issued by Tahrir al-Sham, the alliance announced it found a training centre and weapon depots that belong to ISIS during its operation.
"But residents of the region know full well that the Iraqi ISIS elements were staying in the area by agreement with Tahrir al-Sham," he said, "and that units of Tahrir al-Sham fighters were constantly present in the town of Kafr Hind."
Iraqi ISIS fighters suffer losses
The latest information from rural Salqin indicates that there were around 30 Iraqi ISIS elements in Kafr Hind, Assaf said.
Tahrir al-Sham killed at least half of them, he added, and battles are ongoing with the remaining fighters from the Iraqi contingent.
Tahrir al-Sham fully intends to eliminate the remaining Iraqi elements, he said, pointing out that two houses where a number of them had lived were bombed at the outset of the fighting.
The general state of lawlessness in Idlib province has peaked over the past few days, Assaf said, with the latest incident involving the shooting of a currency exchanger in the city of Sarmin.
The moneychanger, named as Alaa Abdul Aziz, was robbed of $100,000 in his possession and then moved to another area, where he was shot in the head.
He survived the attack, but suffered critical injuries, and is receiving treatment.
On Monday night (June 4th), an elderly woman named as Jamila Abdel Fattah of the city of Ariha also was killed in Sarmin, and jewelry and money in her possession was stolen.