Anbar province cities are seeing the return of Ramadan traditions and customs that were outlawed under "Islamic State of Iraq and Syria" (ISIS) rule.
"The holy month of Ramadan changed dramatically when the terrorist ISIS group took over Fallujah," city resident Ismail al-Mohammadi told Diyaruna.
The group banned the nightly taraweeh prayers and late evening prayers at the mosque, he said, adding that it also banned residents from playing the traditional game of al-Muhaibis and decorating their homes with lanterns.
During the ISIS era, "we were terrified and threatened with death", he said, noting that with Anbar's liberation, "life is back to normal".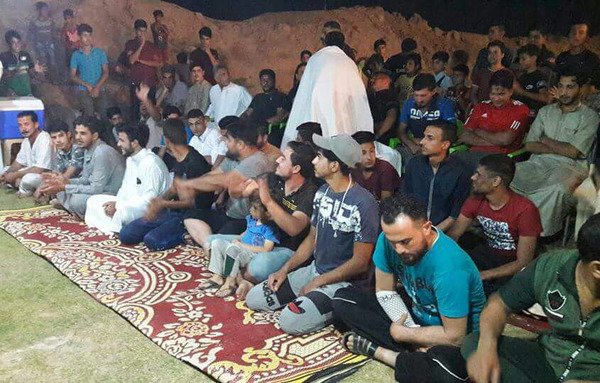 "Anbar families have returned to their old traditions and customs during the month of Ramadan, including al-Tuma," he said.
This custom "is when neighbours share meals and place cold water, dates and yoghurt in mosques before the evening call to prayer", he explained.
ISIS "made us grow our beards and we could not shave", teacher Jamal Hamad told Diyaruna.
Food was scarce during the years of ISIS rule and life was "nothing more than continued fear and horror, and we lost a lot," he said. "The month of Ramadan would go by without any joy, as a result of violence, murder and destruction."
"Anbar and Ramadi are back, thanks to the determination of their people and their co-operation with the security forces and the support of the tribal fighters," Hamad said.
'Beautiful traditions' are back
"Fallujah has been through some tough times, as its people were subjected to murder, destruction and deprivation of the most basic living requirements," Fallujah resident Tiba Obaid al-Jumaili told Diyaruna.
"Women were banned from going out or visiting the market, and the extremist group forced us to wear the niqab and prevented us from showing our faces, our eyes or even speaking to anyone in public," she said.
This Ramadan, city residents "can practice all the beautiful traditions that we have been accustomed to since a young age", al-Jumaili added.
They are able to buy food and prepare traditional desserts and soups, she said, and can buy meat, nuts and other dishes that are associated with the iftar and suhour meals.
ISIS sought to spread destruction, she said, but this era is now over, "thanks to the security forces in all their formations".
A mesaharati returns to work
"I have worked as a mesaharati [dawn awakener] and this profession has been passed down to me by my father," said Ramadi resident Hashim al-Alwani, also known as Abu al-Tabil.
"But I was banned from performing during Ramadan when ISIS took over in 2014," he told Diyaruna. "I did not return to work until they were gone in 2016."
Iraqi security forces have given all mesaharatis a permit to work and roam in the evening throughout Ramadi to wake the people for suhour, he said.
"We are happy when we see people offer us a suhour meal as we walk the streets during the early hours of the morning," al-Alwani added.
"Every neighbourhood has a mesaharati and each has their own turf and covers a certain area right before suhour time," he said.
"The security situation in Anbar has been fully under control during the holy month of Ramadan," said Anbar police chief Maj. Gen. Hadi Kassar Erzaij.
The curfew has been extended from midnight until 1 a.m. so as to give families freedom of movement, he told Diyaruna, adding that "ISIS is over and will never come back".