Residents of the Syrian province of al-Raqa are experiencing Ramadan this year free of the control of the "Islamic State of Iraq and Syria" (ISIS), and are able to once again enjoy their city's traditions of public banquet iftars and late-night suhoor meals.
The group was expelled from al-Raqa city in late 2017 by the Syrian Democratic Forces (SDF) and the international coalition.
Since then, the wheel of life has slowly started to turn again in the city with the basic necessities of life available, and work ongoing to complete the removal of mines and rubble and continue with the reconstruction efforts.
"Al-Raqa residents who returned to the city are happy they are able to observe their Ramadan rituals freely this year," said resident Mahmoud al-Amin, who returned to the city after its liberation from ISIS.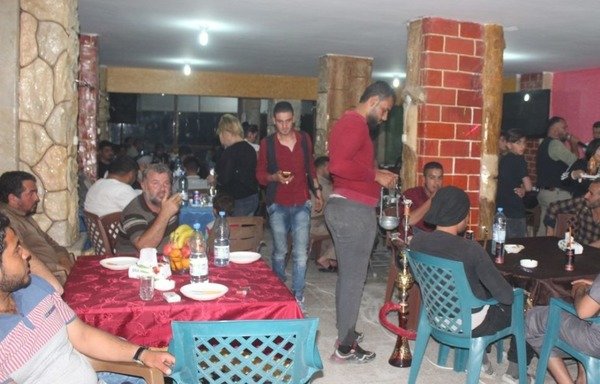 The true Ramadan atmosphere is back in the city, he told Diyaruna, noting that holiday decorations have returned to the handful of markets that have been recently reopened.
Group iftar banquets, one of al-Raqa's main traditions during Ramadan, are being held by residents, and free meals are being distributed to those in need, he added.
Such scenes were totally absent during ISIS's control, he said.
Residents can now "enter mosques and pray freely, rituals that were imposed on them and which they often evaded because of the tyranny of the group's elements", he said.
They stay up at night for the suhoor meal, congregating in restaurants or cafes in a relaxed atmosphere that the city and its residents were accustomed to for decades, al-Amin said.
Meanwhile, food prices are at a normal level, he said, noting that "merchants are adding only a reasonable profit margin in solidarity with the returnees".
The city's local council is hard at work to provide returnees with basic necessities, such as water, electricity, food supplies and fuel, and is monitoring prices to prevent merchants from taking advantage of the scarcity of some items, he said.
Solidarity with displaced residents
Not far from al-Raqa, thousands of displaced Syrians remain stranded in the Ain Issa camp for internally displaced people (IDPs).
Conditions at the camp are difficult, camp resident Mahmoud Ali al-Salem told Diyaruna.
Humanitarian organisations have cut back their support, particularly food aid, and the relief kitchen, which was a main source of food for many of the camp's residents, was shut down for a while, he said.
With the advent of Ramadan, however, the camp's administration reached an agreement with a humanitarian organisation to help put the relief kitchen back in service, al-Salem said, adding that it has been offering iftar meals to camp residents.
Many of those who had already returned to their cities also have been visiting the camp during Ramadan to serve iftar meals in a gesture of social solidarity, he added.
Al-Tabqa renews Ramadan traditions
In the nearby city of al-Tabqa, the situation appears to be even better than in al-Raqa.
Fathi al-Salloum, a farmer from al-Tabqa, said conditions in the city are quickly changing for the better as the city suffered less destruction than al-Raqa.
"Basic services such as water, electricity and sanitation services are up and running," he told Diyaruna.
Markets are crowded with shoppers every day during Ramadan, he said, in a scene that is reminiscent of the pre-ISIS era when al-Tabqa's markets were flocked with residents of the city and its surrounding areas.
"The beautiful scenes that have returned to the city include the group iftar banquets that are held in the streets and public squares," said al-Salloum.
Residents, shoppers, visitors and travelers passing through the city would flock to the group iftar banquets.
"It is a custom that the city was famous for throughout its history," he said. "It is back today after being banned by ISIS as part of the harsh and prohibitive rules that the group's emirs imposed on the people of the city."