Iraqi forces on Saturday (May 26th) kicked off a major campaign to completely eliminate the presence of "Islamic State of Iraq and Syria" (ISIS) elements in the areas between Diyala and Salaheddine provinces.
The ongoing campaign, which has focused on the Mutaibija area, has already achieved "significant results" in removing the threat ISIS remnants pose to major cities in both provinces, Diyala police told Diyaruna.
Diyala police, the Diyala, Samarra and Salaheddine operations commands, the army's 5th Division and popular mobilisation and tribal forces are taking part, with Iraqi army air cover, said police information director Col. Jassim al-Attiya.
Search operations have been conducted in the area of Mutaibija and in remote areas and villages on the administrative border between the two provinces, including al-Mayyita, al-Sabiaat and Hawi al-Azim, he told Diyaruna.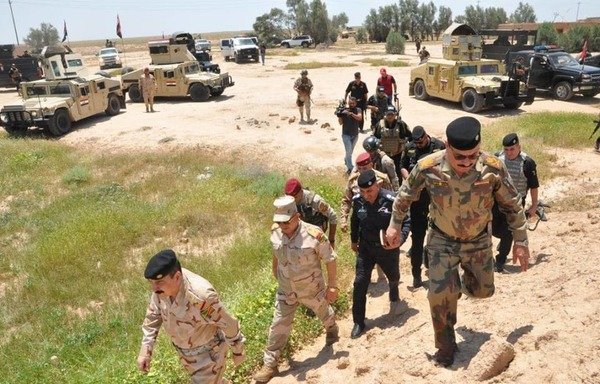 The operation was initiated based on intelligence that indicated ISIS remnants were trying to find sanctuaries there, he said, "taking advantage of ​​the vastness of these areas and the difficulty of fully covering them in terms of security".
Denying ISIS a foothold
Several sites where ISIS elements were thought to be hiding out have been searched, "achieving significant results towards eradicating their threat and preventing them from establishing any safe foothold", al-Attiya said.
As of Tuesday, he said, security forces have destroyed eight safe-houses where ISIS elements were hiding, "and have disarmed 11 improvised explosive devices (IEDs) planted around those hideouts to secure them".
They also seized "a large workshop for the making of car-bombs, explosives, logistical materials and supplies", he added, noting that the operation has not yet led to the arrest or killing of any ISIS elements.
"Since the campaign was launched, the citizens have been helping us by providing security information," he said. "Their co-operation goes as far as participating in the investigation of terrorists' hiding places."
"This is nothing unusual, as the people always have been of help to us," he added, pointing out that a few days before the current campaign local residents helped the security forces repel an attack in Jalawla.
Securing any area, whatever its size and nature, cannot be done without the population's co-operation, al-Attiya said, stressing that "this is a key factor in the success of any security effort".