Residents who remained in the vicinity of Yarmouk Palestinian refugee camp and al-Hajar al-Aswad after the "Islamic State of Iraq and Syria" (ISIS) withdrew have expressed concern about widespread looting.
Since Syrian regime forces and allied militias entered the area, a camp resident told Diyaruna, there has been a proliferation of what is known as "taafeesh", the theft of furniture and appliances from vacated homes.
Theft is being carried out on a systemic scale by Syrian armed forces and affiliated militias, Yarmouk resident Naji al-Amer, a nurse, told Diyaruna.
The contents of many homes in the area are being looted -- sometimes in plain sight of residents -- who can do nothing but object verbally, he said.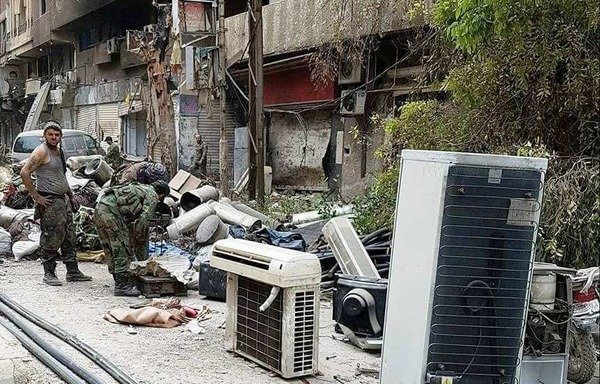 The reaction of the armed forces is unpredictable, he said, noting that they opened fire on a family who tried to object to the looting of their home, killing a teenager of about 15 who has been named as Rami Mohammed Salman.
Camp residents denied entry
Regime forces are preventing residents from returning to Yarmouk, warning them of the proliferation of mines and rubble caused by military operations.
This assertion has been met with suspicion from residents, however, who gather daily at the entrance to the camp and attempt to enter, al-Amer said.
Residents have been asking why they are being prevented from entering the camp on the pretext of safety, while armed forces are moving around freely and stripping houses without being injured by a mine, he said.
Following intervention from influential acquaintances or the payment of bribes, some families have succeeded in entering the camp, al-Amer said.
These families are forming their own committees to maintain security in the areas to which they have returned to prevent theft, he added, noting that many clashes have broken out between residents and looters.
Despite the limited availability of basic living requirements, residents are determined to return to protect what remains of their property, he said.
They also are fearful of staying away on account of rumours spreading in the region that the Syrian regime is preparing to create a buffer zone around Damascus that encompasses the camp and al-Hajar al-Aswad, he added.