The Iraqi Ministry of Oil has finally succeeded in extinguishing the last of the fires at oil wells started by the "Islamic State of Iraq and Syria" (ISIS).
This marks a significant milestone for both the environment and the economy, as the fires caused heavy material losses and dangerous environmental pollution, Iraqi officials said.
"We have managed to put out the last oil well fire started by terrorists," ministry spokesman Assim Jihad told Diyaruna. "It was well number 42, which is part of the Ajil oilfield in Salaheddine province."
"Technicians and experts from the North Oil Company and the Civil Defence Directorate, as well as other leading agencies, were responsible for extinguishing the fires in this well and others that were raging in northern oil wells," he said.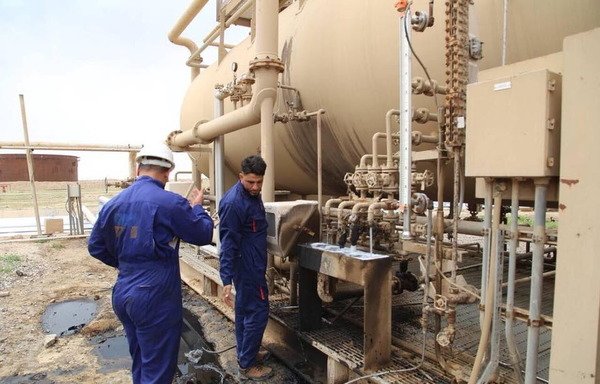 "All efforts to put out the fires were purely from Iraqis, without the aid of foreign companies," he noted. "Our national cadres have managed to make remarkable progress, and now have sufficient know-how to deal with such situations."
Rehabilitation can begin
Oilfield fires have caused billions of dollars worth of financial losses, Jihad said, which would have continued to mount until the fires were contained.
Relying on national resources has helped the Iraqi government by saving money that would have gone to pay foreign companies for doing this work, he added.
Now that the fires have been extinguished, oil infrastructure can be rehabilitated and the pumping of crude oil can recommence from Iraqi oilfields damaged by ISIS, he said, thereby closing this particular chapter in history.
As ISIS was forced to retreat, it began setting oilfields on fire to impede the progress of the Iraqi forces and stymie airstrikes due to the thick, black smoke.
This tactic became part of the group's "scorched earth" policy.
The Ministry of Oil has been extinguishing fires since early 2016, and has managed to put out dozens of oil well fires in the northern oilfields, the most prominent of which are al-Qayyara and Ajil fields.
The ministry is "working today to rehabilitate damaged wells, as well as all oilfields and facilities that were vandalised by militants", Jihad said.
New stage of reconstruction
Iraqi expertise has proven to be highly capable when it comes to putting out fires in oilfields, oil expert Humam al-Shamaa told Diyaruna.
"From a technical viewpoint, these fires are extraordinary, as they require deep expertise and advanced techniques to completely bring them under control," he said, commending the work of Ministry of Oil teams and fire brigades.
These teams have made "significant progress" with the limited resources available to them, he said, which "opens up the possibility for a new stage of reconstruction and rebuilding the oil infrastructure the terrorists destroyed."
This will in turn allow for the development of oil production.
"Putting out the fires in the oilfields spelled an end to this massive problem, which had economic and environmental ramifications," said Sadiq al-Bahadli, a professor of finance and banking at Baghdad's al-Mustansiriya University.
By setting the oilfields on fire, ISIS had tried to destroy Iraq's economy, which relies heavily on oil revenues to finance its budget, he told Diyaruna.
Putting them out "is a testament to our ability to overcome any challenges and overcome the scourge of war", he added.