Russia's recent call for foreign forces to leave Syria was seen as a possible turning-point in its tricky alliance with Iran, though analysts say their partnership still has a long way to run.
"With the start of the political process in its most active phase, foreign armed forces will withdraw from Syrian territory," President Vladimir Putin vowed after meeting his Syrian counterpart Bashar al-Assad in Sochi on Friday (May 18th).
Putin's envoy to Syria, Alexander Lavrentiev, later said this included Iran.
Up to now, the two countries have worked in fairly close tandem, with Russia providing the air power and Iranian forces doing the heavy lifting on the ground.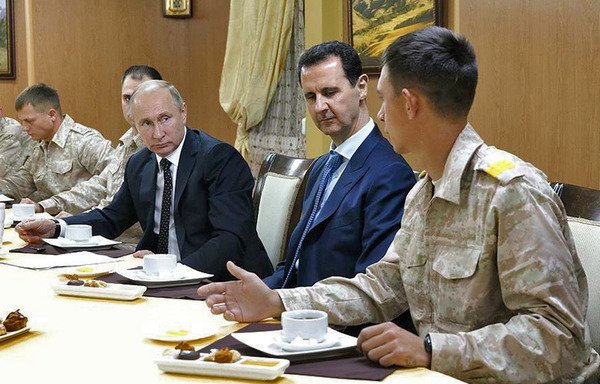 Henry Rome, Iran researcher for the Eurasia Group in Washington, said Putin's comments were "not game-over in the Russia-Iran alliance in Syria by any means, but it is a pretty serious bump in their road".
"No timeline was fixed for foreign forces to leave," he said. "But it is noteworthy the Kremlin did not walk the statement back later, or soften the tone."
Iranian officials reacted testily, with foreign ministry spokesman Bahram Ghasemi saying, "Nobody can force Iran to do something against its will".
'Not even on the agenda'
Syria's deputy foreign minister Faisal Mekdad on Wednesday said Damascus did not envisage Iran and Hizbullah participating in the withdrawal, telling RIA Novosti state news agency "this topic is not even on the agenda for discussion".
Analysts say Russia is motivated by fears that the Syrian conflict could evolve into an even deadlier war between Iran and Israel.
Unnerved by the presence of so many Iranian forces to the north, Israel has launched a series of air raids on Iranian positions in Syria in recent weeks.
Russia is the only power with close ties to both.
"The Russians are playing a delicate balancing act between different regional allies," said Julien Barnes-Dacey of the European Council on Foreign Relations.
He said the Russian statement about removing foreign forces was a message to Iran that there would be limits to its influence.
"But they will have extreme difficulty in enforcing it," he said.
Iran is deeply entrenched militarily in Syria, and wary of Russia trying to edge it out of the country and reap all the spoils of reconstruction.
"Iran fought a very difficult war -- is still fighting it -- and expects long-term concessions out of that in terms of energy contracts and so on," said Rome.
There has been consternation in Tehran, he said, that Russian and Turkish firms are winning key contracts, and even more so that Russia appeared to give Israel the green light for its recent air strikes on Iranian positions.
'Using each other'
For all the bad blood, Russia and Iran are still working closely together. Iran relies on Russian air support and anti-aircraft equipment, while Iranian forces and proxies will be crucial to a ground war that is still far from over.
"They will both use each other as much as possible, for as long as possible," said Rome.
But all analysts agree the major parties are manouevring for position in the post-war landscape.