In addition to its security duties, the Iraqi army is actively participating in efforts to rehabilitate and protect houses of worship destroyed by acts of terrorism so people can perform their rituals without fear.
The Ministry of Defence recently announced it has rehabilitated Mar Yousif Chaldean Catholic Church in Baghdad as part of a campaign to help rebuild all churches, mosques and temples that were forced to close in recent years.
A group of officers and personnel from the Baghdad Operations Command rebuilt the church of Mar Yousif, who is revered as the patron saint of workers, ministry spokesman Maj. Gen. Tahseen al-Khafaji told Diyaruna.
This church, located in Baghdad's south-western Hay al-Aamel neighbourhood, has been closed since 2007 as it was attacked several times and its priest, the Rev. Gabriel Shammami, was kidnapped and later released.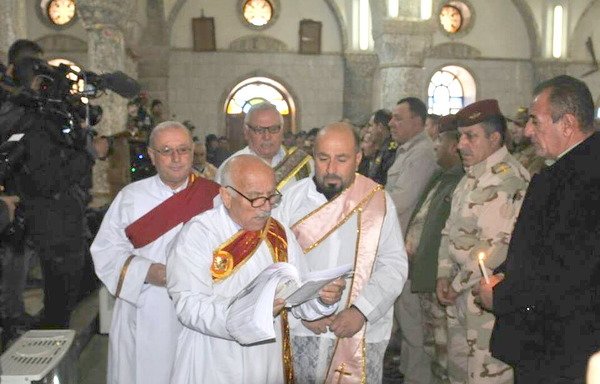 Since that time the church, which was built in 1965, has remained abandoned.
Rehabilitation work included cleaning the church, clearing rubble and repairing damaged doors and windows, as well as fixing and painting walls and repairing the electricity and water systems.
Part of a co-ordinated campaign
There have been previous efforts to rebuild and rehabilitate other churches that were completely or partially destroyed by terrorists in Bartella in eastern Mosul, al-Khafaji noted.
The rehabilitation efforts are part of "a co-ordinated campaign with other government agencies and charitable foundations to help rebuild all places of worship, particularly the historical ones, as they are heritage sites", he said.
These efforts make it clear that the Iraqi army is for all Iraqis with no exception, he said, and that the army feels proud to work as a unified team with all sectors of Iraqi society.
"Our message is that, just as we liberated our land and defeated terrorism today, we are contributing towards the reconstruction effort and returning people to their homes," he said.
All components of Iraqi society suffered at the hands of ISIS, he said.
"People suffered from untold tragedies that remain unprecedented in history, and now it is time for all of us to unite and take part in rebuilding a better future for our nation," he said.
Restoring Iraq's sacred spaces
As part of the same effort, security forces have been helping the Sunni Endowment Authority in Diyala to reopen several mosques that were closed down because of terrorism.
With the help of army and police leadership, 113 mosques have been reopened, said Taha al-Majmaie, head of the Sunni Endowment Authority in Diyala.
Some of them had been closed for a whole decade due to terrorist attacks and threats, he told Diyaruna.
The security forces "helped us secure and rehabilitate these mosques to their former status", he said, noting that they were reopened in the presence of Sunni and Shia clerics and local residents who expressed their solidarity.
In Ninawa province, the security forces are working with local residents to rehabilitate places of worship that were destroyed over the past three years.
Several mosques in Mosul and churches in Ninawa, including Mar Bahnam monastery and Mar Hanna in Qaraqosh, as well as Yazidi temples in Sinjar have reopened their doors and welcomed worshippers once more.
After the ouster of ISIS, the security forces are seeking to bring back normalcy and establish the foundation for peace and prosperity, Ninawa provincial council member Hassan Shabib told Diyaruna.
They have played a positive role in supporting the efforts to rebuild places of worship and provide a safe environment for people to perform their rituals and religious festivities, he said.