Recent Iraqi airstrikes targeting "Islamic State of Iraq and Syria" (ISIS) sites inside Syria are an important development in the effort to fight the group, Iraqi officials told Diyaruna.
They have sought to eliminate the threat ISIS poses to populations on both sides of the border by preventing its elements from regrouping and rebuilding their combat capabilities.
Iraqi warplanes carried out a May 6th sortie targeting ISIS commanders in eastern Syria on the orders of Prime Minister Haider al-Abadi.
The cross-border strike targeted "a meeting of ISIS commanders south of al-Dushashiya in Syrian territory", the Prime Minister's office said.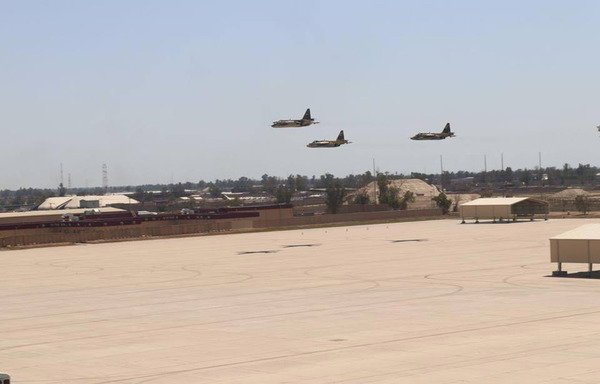 Al-Dushashiya is in a desert region of Syria's al-Hasakeh province, where the Syrian Democratic Forces (SDF) are battling ISIS.
The Iraqi strike "targeted a sizable gathering of ISIS militants" who had been planning to cross the border into Iraq, Iraqi Ministry of Defence spokesman Maj. Gen. Tahsin al-Khafaji told Diyaruna.
It was conducted to "confront terrorist threats and protect civilians", he said.
'Necessary and unavoidable'
Iraqi warplanes on Monday (May 14th) destroyed several ISIS positions in al-Hasakeh province in their third raid in Syria since April, Iraq's Joint Operations Command said.
"Iraqi F-16 fighter jets have pounded an ISIS command and logistical support centre south of al-Dushashiya, inside Syria, fully destroying it," the command said in a statement.
Iraqi forces on April 19th targeted a large gathering of ISIS elements and leaders in rural Deir Ezzor, striking a multi-story building 25 kilometres inside Syria, Iraqi Air Force Commander Lt. Gen. Anwar Hama Amin told Diyaruna.
The raid, near the city of Hajin, left 36 ISIS elements dead.
Iraqi air operations targeted several locations ISIS fighters "use as launchpads for their operations", said Baghdad provincial council security committee member Saad al-Matlabi.
The strikes are "necessary and unavoidable", he told Diyaruna.
"We cannot stand by while ISIS carries out its plans to attack our country from its locations in the Syrian border towns," he said, adding that strikes "should continue as long as the terrorist threat remains".
He underscored the importance of closing in on ISIS "on land and from the air", noting that the relative security experienced in Iraq today can be attributed to the ongoing operations to track down ISIS remnants.
New phase in the battle
"We are turning a corner and experiencing significant change in the efforts to combat and uproot the causes of terrorism," security expert Jassim Hanoun told Diyaruna.
"We used to fight the terrorists inside our country, and today we are successfully hunting them down outside our borders," he said.
The Iraqi airstrikes in Syria have "successfully undermined the threat of ISIS by destroying headquarters where it would hold meetings, hatch plans and assign responsibilities to its followers", Hanoun said.
Among the targeted locations were "weapons and ammunition storage facilities, as well as factories for the manufacturing of explosives, and telecommunications, funding and equipment sites", he noted.
But the key success of these strikes is the elimination of top ISIS commanders, he said, describing this as "the heaviest loss" for the group.
International collaboration
The success of the airstrikes is due to "high level collaboration and agreement" between the Iraqi military command and the international coalition, strategy expert Ahmed al-Sharifi told Diyaruna.
The strikes are being carried out by Iraqi pilots with radar coverage, logistical support and direct follow-up from the coalition forces, he said.
"What sets these attacks apart is their quality rather than quantity, as they are targeting select locations based on precise intelligence and surveillance," he said.
The goal is to prevent ISIS from regaining combat capability, he noted.
ISIS is trying to establish fortified locations in certain parts of Syria that are close to the Iraqi border, he said, which would allow it to mount offensive attacks on Iraqi forces patrolling the area and breach the Iraqi border.
"However, the pre-emptive strategy that our forces are following is thwarting terrorists and their plans," al-Sharifi said.