The death toll from a Saturday night (May 12th) car bomb blast in the northern Syrian city of Idlib continued to rise on Sunday, with at least 28 dead and many wounded, the Syrian Observatory for Human Rights reported.
At least five civilians and 10 members of the Tahrir al-Sham alliance were among the dead, along with eight people accused of belonging to the "Islamic State of Iraq and Syria" (ISIS), the Observatory said.
According to Observatory director Rami Abdel Rahman, the car bombing targeted a tribunal in Idlib set up by Tahrir al-Sham where suspected members of ISIS had been detained, AFP reported.
The blast in Idlib's city centre is the latest in a series of explosions in the vicinity of the city. It caused significant property damage, particularly to the provincial hospital, which was knocked out of service, witnesses told Diyaruna.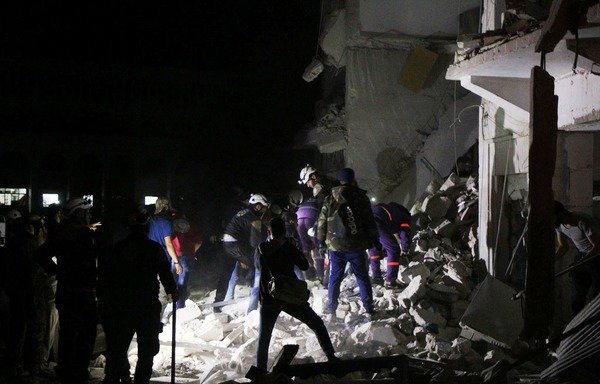 In a statement, the Union of Medical Care and Relief Organisations (UOSSM) said a car bomb detonated at approximately 8:50 p.m. Saturday, less than 25 meters away from the Idlib Province Hospital.
Two medical staff were among the dead, and more than 25 were injured, it said.
The massive explosion shook al-Kasih district near the hospital and the Palace of Justice, Usama Qanbar, a nurse in the provincial hospital, told Diyaruna.
In addition to the human toll, the blast also caused significant damage to property, with the resulting rubble causing road blockages, he said.
Provincial hospital out of service
The provincial hospital sustained serious damage as the blast detonated near its entrance, Qanbar said, adding that its interior was destroyed and recovery room, dialysis and other precision equipment was rendered inoperable.
The explosion appears to have been caused by an improvised explosive device (IED) placed inside a car parked near the hospital's entrance, he said.
A large number of wounded people were rescued from under the rubble, with Syrian civil defence working for more than three hours to rescue four men who were trapped, he said.
Some of the wounded are in critical and unstable condition and are undergoing surgery at other hospitals in the region, Qanbar added.
Qanbar said the blast was not surprising to the people of the city, as there has been a wave of bombings in the region -- more than 50 in one month.
These attacks continue to occur despite the strict security measures taken by the Idlib Free Police and opposition groups, he said, adding that they target militant figures and activists, but many innocent civilians have been killed.