Yarmouk Palestinian refugee camp in south Damascus and other locations in the area have come under intensive fire from the Syrian regime and its allies, who are targeting various armed opposition groups, activists told Diyaruna.
Areas under the control of the "Islamic State of Iraq and Syria" (ISIS), the extremist alliance Tahrir al-Sham and other armed groups have been coming under heavy regime shelling and airstrikes, they said.
At least five civilians were killed on Sunday (April 22nd), the Syrian Observatory for Human Rights reported, bringing to 11 the number of civilians killed in the camp since the fighting escalated on Thursday.
Many more have been wounded as a result of heavy, indiscriminate artillery shelling and airstrikes, local activist Bahaa al-Sahli told Diyaruna.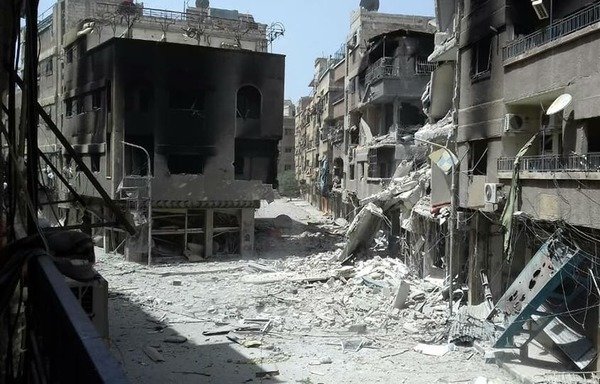 Yarmouk under fire
The regime and its allies were still pummeling ISIS-controlled areas of Yarmouk on Sunday, as well as areas adjacent to it that are controlled by other groups.
Yalda, Babila and Beit Sahm have been under fire, al-Sahli said, with Salikha and Daaboul neighbourhoods on Tadamon street, al-Hajar al-Aswad district and al-Assali and al-Madanyah in al-Qadam district among the hardest hit.
Fierce fighting also is raging in al-Rija area between regime forces and Tahrir al-Sham, as well as in al-Qadam district, al-Sahli said.
"Regime and allied forces have been able to advance a modest distance in [Yarmouk's] al-Zayn neighbourhood, which separates the town of Yalda from al-Hajar al-Aswad district," he said.
The bombardment has pushed most Yarmouk residents to flee their homes and has put the area's last hospital out of service, said UN Palestinian refugee agency (UNRWA) spokesman Chris Gunness.
"Since the start of fighting four days ago, most of the 6,000 civilians in Yarmouk camp have been forcibly displaced to the neighbouring area of Yalda," he said Sunday. "The last functioning hospital inside Yarmouk, Palestine Hospital, is now completely unable to operate."
Gunness called on all sides to allow civilians to leave safely, for the sick and wounded to be evacuated, and for safe access for humanitarian workers to distribute food and medicine, AFP reported.
ISIS fighters killed
In addition to the civilian casualties, a number of ISIS fighters have been killed over the past few days, al-Sahli told Diyaruna.
Among them are Abu Hisham al-Khabouri, ISIS emir of the area south of Damascus, and others identified as Abu Ali Nafsha, Abu Fatima al-Maqdisi, Abu Jihad al-Madani, Abu Hajras, Abu Ubaida al-Qanas and Abu Omar al-Andalusi.
"Negotiations are under way between the Syrian regime and militants in all areas to arrange a cease-fire, which would see fighters and their families transported to other areas, as has been the case in other areas around Damascus," he said.
But many difficulties stand in the way of such agreements, he added, as hundreds of militants are asking to be transported to ISIS-controlled areas in eastern Syria, where the group continues to maintain a presence.