Medics and athletes are among a growing number of civilians taking part in protests against the presence and actions of the Tahrir al-Sham extremist alliance in Idlib province, a local activist said.
In recent hours, medical personnel have protested the alliance's targeting of medical facilities amid its ongoing battles with the Syrian Liberation Front, and athletes have held a vigil to protest the detention of a prominent sportsman.
Tahrir al-Sham detained Ibrahim Sanda, a well-known athlete and award-winning boxer, which prompted fellow athletes to hold a Thursday (April 19th) protest in solidarity with Sanda at a football field in the city of Atareb, activist Haisam al-Idlibi told Diyaruna.
Participating athletes held signs denouncing the alliance's actions.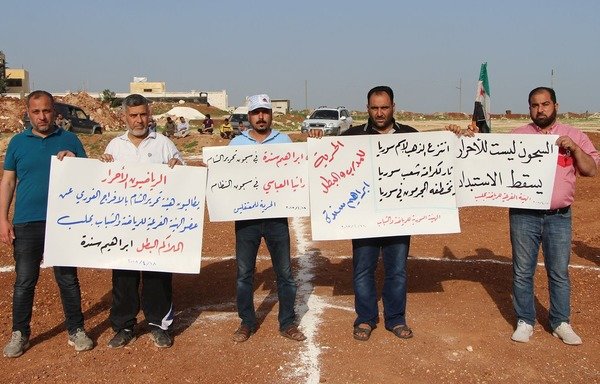 "Sanda is not the first athlete to be detained by Tahrir al-Sham," al-Idlibi said, "as the alliance recently detained Nader al-Atrash, the head of the Syrian Football Federation in Idlib, releasing him two days later."
Medical workers have been taking part in their own protests against the alliance, he said, with doctors and nurses in the city of Idlib demonstrating against Tahrir al-Sham for its deliberate targeting of medical facilities in Maarat al-Numan.
Participating medics demanded that Tahrir al-Sham refrain from targeting medical facilities during its battles with other groups.
Alliance faces fierce resistance
During its attempt to storm the city of Maarat al-Numan, Tahrir al-Sham faced fierce resistance from residents and the Syrian Liberation Front, al-Idlibi said.
"Faced with this resistance, it carried out intensive shelling, directly targeting hospitals and medical facilities, with some knocked out of service and others suffering severe damage," he said.
The most recent confrontation between area residents and Tahrir al-Sham also took place on Thursday, al-Idlibi said, when clashes broke out between the residents of the city of Sarmada and the extremist alliance.
The clashes began after the alliance opened a recruitment office in the city, taking advantage of the dire financial situation many residents are facing to entice them with high salaries, he said.
This prompted the residents to protest and demand that Tahrir al-Sham shut down its office and leave the city altogether, he added.
Clashes between the two sides ensued, during which Tahrir al-Sham opened fire, wounding a number of civilians.