Syrian opposition factions in the city of al-Dumayr in Eastern Qalamoun have entered into a truce agreement with the regime, a local activist confirmed on Tuesday (April 17th).
Opposition factions in the city agreed to enter into a truce with the Syrian regime as part of a conditional agreement brokered by Russia, local activist Mamoun Huwaidi told Diyaruna.
Huwaidi said the opposition accepted the agreement because it sought to spare the more than 100,000 civilians in the city the ravages of the battle in light of the regime's determination to capture the entire region.
"The regime and allied militias have been applying a scorched earth policy in the battles they have fought," he said, noting that the region is now fully surrounded.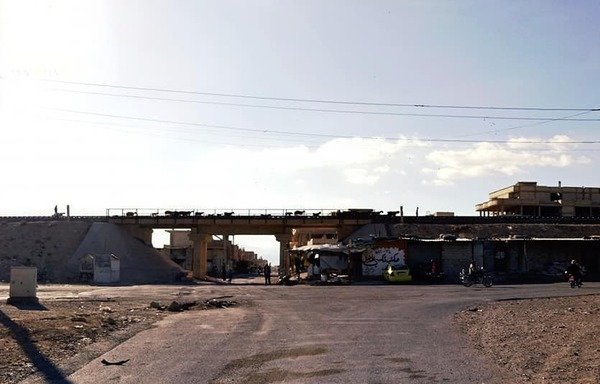 Any future battles would have disastrous consequences for the region's civilians and for internally displaced persons (IDPs) from other areas -- and from Eastern Ghouta in particular -- who have sought shelter there, he said.
Opposition forces present in al-Dumayr include the Forces of Martyr Ahmad al-Abdo and Jaish Usud al-Sharqiyah (Lions of the East Army), both of which are affiliated with the Free Syrian Army's Southern Front.
Residents can leave or remain
The agreement between these opposition factions and the regime provides for the departure to northern Syria of all opposition fighters and civilians who wish to leave, Huwaidi said.
Those who choose to leave will be given a choice of two destinations: Idlib province and the Jarablus area near the border with Turkey.
"Those who opt to stay have been assured they will not be targeted or prosecuted by Syrian security or judicial authorities," he said, and there are provisions for reconciling the status of defected military personnel.
Huwaidi noted that after this agreement only four towns remain in the hands of the armed opposition in Eastern Qalamoun: al-Ruhayba, al-Nasriyah, al-Atnah and al-Mansoura.
Preliminary negotiations are ongoing to settle their situation along the same lines used with al-Dumayr, he said, "except that the armed factions in these areas are determined to stay and not withdraw to any other area".
A few areas south of Damascus still remain out of the regime's control, he said, including the Yarmouk Palestinian refugee camp, the al-Qadam and al-Hajar al-Aswad districts, and the towns of Yalda and Babila.