The "Islamic State of Iraq and Syria" (ISIS) has been reinforcing its positions in areas of south Damascus where it has a presence in anticipation of an onslaught from the Syrian regime, a local activist said.
Bulldozers have been spotted building earth berms to reinforce the group's defences inside the Yarmouk Palestinian refugee camp, and it has forced civilians in the camp to leave some areas, local activist Bahaa al-Sahli said.
Civilians are being forced to flee their homes in the camp at gunpoint, he told Diyaruna, "under the pretext that ISIS is preparing for an attack that may be launched against it soon".
Meanwhile the Syrian regime and its allies have been mobilising at the entrances to Yarmouk, according to local media reports.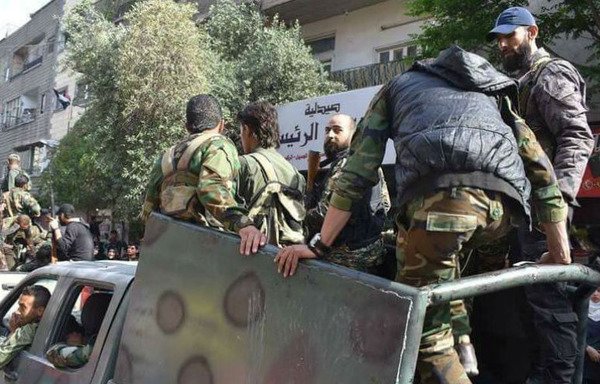 Inside the camp, Qitaa al-Shuhada (Martyrs sector) has been emptied of its residents, al-Sahli said.
The district, which falls within the area under ISIS control in Yarmouk, extends from Loubyeh Street to the Yarmouk Secondary School for Girls.
According to al-Sahli, area residents said the group's elements evacuated them by force and built up fortifications that included opening passageways through the lower floors of buildings and building bridges between homes.
They also dug new tunnels in which to shelter and move about, and declared these areas "closed military zones" to prevent civilians from going near them.
ISIS leaders are mobilising their elements and requiring them to take a "pledge of allegiance to the death" to affirm and ensure their loyalty and prevent any attempt to escape or split away from the group, he said.
Meanwhile, the group's emirs and officials have been vacating their headquarters, and are constantly changing where they stay.
ISIS and ANF prepare for onslaught
The area ​​south of Damascus contains elements of both ISIS and the former al-Nusra Front (ANF), who are deployed in al-Tadamun area, the west side of the Yarmouk camp, al-Hajar al-Aswad and al-Qadam districts, al-Sahli said.
According to sources in the camp, negotiations are under way between the two groups to ease tensions between them in anticipation of a regime onslaught.
"This area is the only one in the vicinity of Damascus that has a presence of ISIS and ANF, while other groups are present in the towns of Yalda, Babila and Beit Sahm," he said.
These towns appear to be in the process of negotiating a reconciliation with the Syrian regime, as happened in other areas of Damascus, with Sheikh Saleh al-Khatib conducting the negotiations as a representative of the residents, he said.
As for ISIS, al-Sahli said, it is still acting as if it is business as usual in the areas under its control.
The group has continued its practice of executions and floggings, most recently executing a member of the Arabi tribe on accusations of blasphemy.
The group's violent treatment also has been extended to its own elements, as it recently flogged two of its emirs, Feras al-Sheikh and Ghaleb Qassem, who it had charged with theft, and forced them to pay a fine.