Opposition fighters in Syria's Eastern Ghouta surrendered their heavy weapons and their leader left the enclave, a monitor said Thursday (April 12th), signaling the end of one of the bloodiest battles of Syria's seven-year war.
The Syrian flag was raised above the central mosque in Douma, the site of an alleged chemical attack that sparked outrage and threats of Western military action.
US President Donald Trump was mulling his options and British Prime Minister Theresa May called an emergency cabinet meeting Thursday, as the Syrian army braced for Western strikes, hiding assets and deserting key buildings.
Jaish al-Islam, which has controlled Eastern Ghouta's main town for years, had balked at a Russian-brokered deal like those that saw other factions bussed to northern Syria.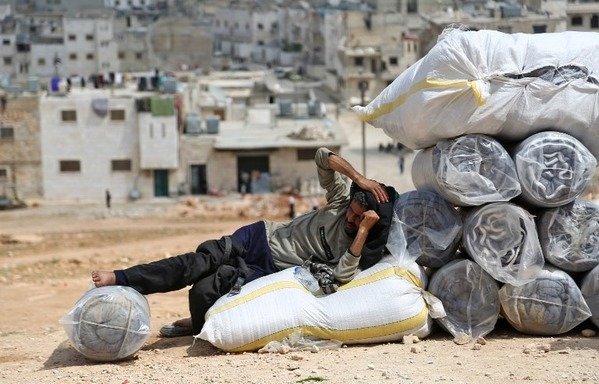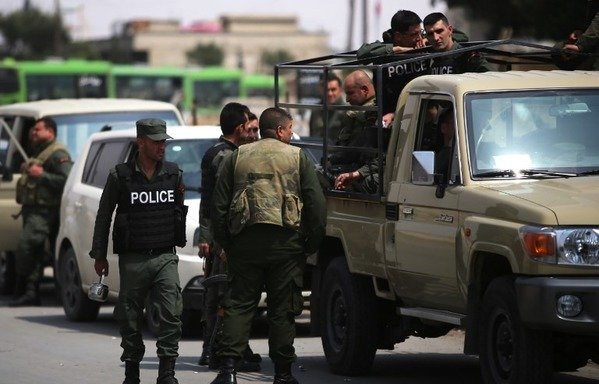 The group's political chief told AFP it was a chemical attack by the regime that forced them to accept Russia's terms and evacuate their former bastion.
"Of course, the chemical attack is what pushed us to agree" to a withdrawal from Douma, said Yasser Dalwan.
It was the first public acknowledgement by Jaish al-Islam of a deal reached for Douma. The agreement was announced on Sunday morning by Syria's government and its ally Russia.
Syrian regime forces had yet to take over Douma Thursday but, according to the Syrian Observatory for Human Rights, the rebels handed over their heavy weapons.
"Jaish al-Islam fighters handed over their heavy weapons to Russian military police in the town of Douma on Wednesday," the Observatory said.
Their top leader Issam Buwaydani boarded a convoy out of Ghouta with thousands of other fighters and their relatives, it said.
"Not all the leadership has left yet. Departures are ongoing," Dalwan said.
Flag raised
Douma residents said that Syria's national red, white and black flag with two green stars was raised on Wednesday above the main mosque, which was also used as the office of the town's opposition-run council.
But a dispute subsequently erupted, shots were fired and the flag was taken down, the residents said.
Russian military police, who had started deploying in the town as part of a deal that would allow some opposition fighters to disarm and stay in Douma, also left after the incident, the residents said.
Simultaneously carrying out airstrikes, brokering talks and supervising humanitarian operations, Russia was the key player in an assault that left at least 1,700 civilians dead.
According to the Russian military, more than 160,000 people have been evacuated from Eastern Ghouta since the assault on the town began on February 18th.
Regime and allied forces are next expected to train their sights on areas in southern Damascus that are almost empty of civilians but still controlled by the "Islamic State of Iraq and Syria" (ISIS).
Ghouta unrecognisable to returnees
Chaos and confusion prevailed in the streets of Douma, where civilians appeared to have very little information on the latest political developments.
Many residents were preparing to take what should be some of the last buses leaving the region to head to northern Syria.
"Eighty buses will be evacuated today. Seventeen of them are already at the gathering point, waiting for the rest of the convoy," a Syrian military source said on condition of anonymity.
The official said the opposition fighters had burned tanks they had been expected to hand over before leaving.
A number of civilians have cautiously started returning to Eastern Ghouta but are finding their neighbourhoods utterly pulverised.
Eyebrows furrowed, Umm Mohammad examined a row of homes in Zamalka, trying to find a spark of familiarity in the heavily-damaged town.
"I have not found my home yet. The neighbourhood's features have all changed and I lost all the main landmarks," said the 50-year-old, who left Zamalka in 2012 after having lived there for more than a decade.
"My house is near the high school on al-Qabun street, but I could not find the high school or even the street."
Row after row of apartment blocks lie gutted, blocked off by berms of debris and twisted metal. Many of the remaining buildings are missing roofs, balconies or entire walls.
Passing through Arbin, another devastated Ghouta town, a young girl peeked out from a damaged home.
"My daughter is not used to seeing cars, so this sight was very strange for her," said Abu Aziza, 34, as his eight-year-old daughter looked on.
Before the assault on Ghouta, the area was under a brutal five-year siege that made food, medicine, and other basic goods nearly impossible to come by.
"It is not just cars -- my daughter does not know what apples are. She saw a banana for the first time two days ago and ate the whole thing with the peel," Abu Aziza said.
"She did not know you are supposed to peel a banana."