The global watchdog working to eradicate chemical weapons announced on Monday (April 9th) it is investigating reports of a suspected gas attack on the Syrian town of Douma in the opposition enclave of Eastern Ghouta.
Regime air raids killed 42 people in Douma on Saturday and 30 on Friday, with airstrikes continuing Sunday, the Syrian Observatory for Human Rights said.
According to the Observatory, 70 civilians had suffered from breathing difficulties on Saturday, and 11 of them, including four children, had died.
The White Helmets rescue organisation, Jaish al-Islam and Syria's main opposition forces claimed that Douma had been hit by a chemical attack.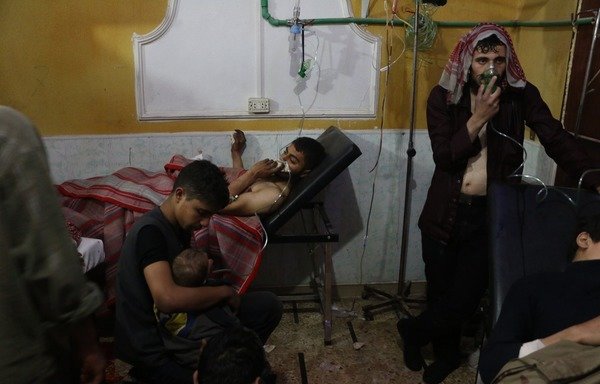 UN Secretary-General Antonio Guterres on Sunday said he was "particularly alarmed" by the alleged use of chemical weapons against civilians in Syria.
Guterres said he was "deeply concerned" about renewed violence in Douma, citing reports that sustained airstrikes and shelling had killed civilians, destroyed infrastructure and damaged health facilities.
Guterres added his voice to that of world and religious leaders, including Pope Francis, and humanitarian groups in denouncing the attack.
Fact-finding team at work
The Organisation for the Prohibition of Chemical Weapons (OPCW) "made a preliminary analysis of the reports of the alleged use of chemical weapons immediately after they were issued", said director general Ahmet Uzumcu.
A fact-finding team is now gathering more information about the Saturday attack "to establish whether chemical weapons were used", he said, expressing his "grave concern" about the situation.
Experts were digging up information "from all available sources" and their findings would be reported to the 192 nations which have signed the Chemical Weapons Convention, Uzumcu said.
The 1993 treaty binds member states to help rid the world of chemical weapons and bans the use, development, production and stockpiling of such weapons.
Syria finally joined the convention in 2013, and the OPCW has destroyed 100% of the country's declared toxic stockpiles, but Uzumcu has repeatedly said there were gaps in the declaration by the Syrian regime.
Amid "persistent allegations" of their use in Syria, the OPCW set up its own independent fact-finding mission in 2014. It has investigated more than 70 cases of alleged toxic gas attacks in Syria since then.
In 2015 the OPCW joined with the UN to form a joint investigative panel, known as the JIM, tasked with identifying those behind the chemical attacks in Syria.
Russia used its veto power twice in November to block the renewal of the panel.
Possible US military response
US Defense Secretary Jim Mattis on Monday pointed toward Russia's role in the suspected poison gas attack, and said he would not rule out a military response.
Russia was supposed to guarantee the disposal of Syria's stockpile of chemical weapons in September 2013.
"The first thing we have to look at is why are chemical weapons still being used at all when Russia was the framework guarantor of removing all the chemical weapons," Mattis said at the Pentagon in a meeting with his Qatari counterpart.
"Working with our allies and our partners from NATO to Qatar and elsewhere, we are going to address this issue ... I do not rule out anything right now."
A year ago on April 4th, dozens of people died after regime warplanes struck the opposition-held town of Khan Sheikhun in Idlib, with medical sources reporting patients suffering from symptoms consistent with a chemical attack.
In retaliation for that attack, US President Donald Trump unleashed strikes by Tomahawk missiles against the regime's Shayrat airbase overnight April 6th-7th.
Growing desperation in Douma
The mood in Douma was fearful on Monday, following the strikes, with city residents and internally displaced persons (IDPs) from other parts of Eastern Ghouta among the afflicted, local activist Mohammed al-Beik told Diyaruna.
Dozens are still being treated at field hospitals, medical posts and clinics, he said, noting that the death toll is likely to rise, as not all those who sought refuge in shelters, hideouts and lower floors of buildings have been reached yet.
According to local medical sources, he said, "the victims were exposed to toxic gases, with many cases of breathing difficulties reported".
"Shortly after 9 p.m. Saturday, the city came under a helicopter airstrike, and people began to suffer from breathing difficulties as a foul odour spread in the shelled areas," al-Beik said.
Toxic gas seeped into the bomb shelters and hideouts, he said, adding that the bombardment was accompanied by airstrikes that prevented the civil defence from reaching the victims to offer them treatment.
As of noon Monday, dead bodies were still lying where they fell or in the main streets, he said, as the civil defence is incapable of handling the situation due to the large number of victims and ongoing airstrikes.