The situation is relatively calmer in Idlib and rural Aleppo with two rival alliances on Thursday (April 5th) reaching a ceasefire agreement, a local activist said.
The agreement between Tahrir al-Sham and the newly formed Syrian Liberation Front was brokered by a civilian group known as the Union of Popular Initiatives, Idlib activist Musab Assaf told Diyaruna.
This new group includes a number of clerics, dignitaries, teachers, doctors and media professionals from the Idlib region, he said.
The group engaged in mediations between the two sides "as civilians have paid the heaviest price for the fighting", Assaf said, with many killed and wounded and significant material losses sustained as a result of the shelling.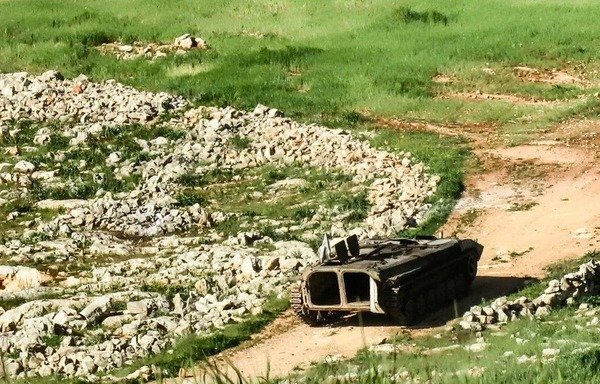 Both sides have shelled civilian areas during the clashes, he added.
According to members of the Union of Popular Initiatives, Assaf said, "this agreement received more attention from both sides than previous agreements".
Tahrir al-Sham agreed to the truce on Thursday morning, while the Syrian Liberation Front agreed to it at least one day earlier.
Growing popular opposition
Tahrir al-Sham's acceptance of the initiative comes amid growing popular opposition to the alliance in Idlib, rural Idlib and rural Aleppo, Assaf said.
Many towns and villages in these areas have called on Tahrir al-Sham's armed militants to permanently leave their towns and spare them the human and material losses caused by the ongoing fighting.
Assaf said the delay in Tahrir al-Sham's acceptance of the ceasefire proposal was due to its attempt to assault the strategic towns of Mkalbis and Darat Azza.
The attack failed, however, and the alliance suffered heavy losses.
"Members of the Union of Popular Initiatives said they were confident the next two days would see progress in the negotiations between the two sides for a permanent end to the fighting," Assaf said.
Meanwhile, he said, Tahrir al-Sham continues to go after those who oppose it in the region.
In recent days, he said, the alliance has been circulating the names and photos of individuals who were evacuated from Eastern Ghouta to the Idlib region as part of the ceasefire initiatives there.
Most of these people are natives of Eastern Ghouta who are known for their enmity to Tahrir al-Sham and had previously fought in the ranks of factions opposed to it, he said, specifically in the fighting in Ghouta two years ago.