Iraqi police in Mosul have been cracking down on "Islamic State of Iraq and Syria" (ISIS) remnants by targeting arms smugglers and by further securing the border with Syria, where the group's elements remain present.
In March, Iraqi forces seized two truckloads of weapons that were being smuggled to ISIS elements in Iraq, and in a separate operation arrested four smugglers who had been supplying the group with arms.
Ninawa police apprehended the first truck on March 6th after it was left unattended in eastern Mosul, officials said.
"Large quantities of smuggled weapons were found that were supposed to be delivered to ISIS, but thanks to the efforts of the security forces, that did not happen," said Ninawa police commander Brig. Gen. Hamad al-Jubouri.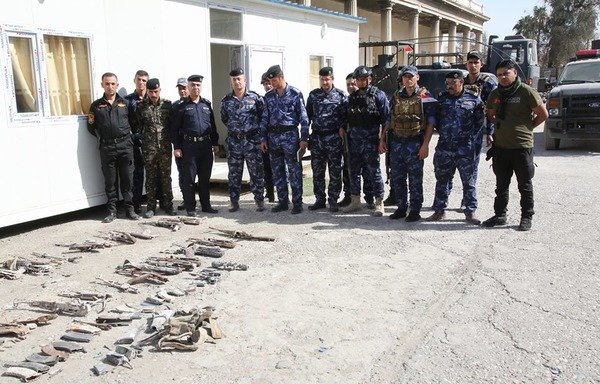 "Our accurate intelligence led us to where the truck was located, and after searching it, we found 34 rocket-propelled grenades (RPGs), rocket launchers, hundreds of missiles and ammunition containers," he told Diyaruna.
The second truck was intercepted in Badoush in western Mosul on March 18th.
This truck had been traveling from the Syrian border and was captured in an operation that involved military and national intelligence services, he said.
According to al-Jubouri, 83 rifle magazines were found inside the truck, as well as ammunition for light and medium weapons, 69 hand grenades and "sticky bombs", as well as large quantities of arms and explosives.
Smuggling ring
Iraqi police recently detained four men in Mosul who were part of an arms smuggling ring that delivered weapons to ISIS remnants, al-Jubouri said.
"They admitted to working with ISIS by sourcing and smuggling weapons for them," he said. "Every day, we are finding weapons and enemy hideouts and are arresting more [ISIS remnants] still living in Ninawa province."
Operations will continue until the last ISIS fighter has been ousted, he said.
Since Ninawa was liberated from ISIS on August 31st, 2017, security forces have been performing their duties at a high level, said Ninawa provincial council security committee chairman Mohammed Ibrahim.
All formations of the security forces "are highly co-ordinated to protect the stability in the province and confront any security breech", he told Diyaruna.
"Thwarting ISIS's arms smuggling operations is happening thanks to this co-ordinated security effort, which is yielding successful results," he said.
Ibrahim called on civilians to report any suspicious activities, describing such intelligence as "a main pillar in any plan to maintain security".
'Exemplary work'
Targeting arms smuggling operations "represents exemplary work being conducted by the security forces", said Ninawa provincial council security committee member Hassan Shabib.
Preventing arms smuggling requires doubling down on surveillance and controlling the border, as ISIS still has a presence on the Syrian side, he told Diyaruna.
"We have to increase the number of our well-armed border patrol forces and support them with army units so we can uncover and intercept border infiltration and arms smuggling operations," he said.
"Securing the border with Syria is a massive responsibility on the shoulders of our forces, and they are executing it with a high level of professionalism and efficiency," he said.