Continuous efforts by Iraqi and coalition forces to rout remaining "Islamic State of Iraq and Syria" (ISIS) elements from Anbar province's vast desert have significantly reduced the threat from this area, a local official said.
These operations have curtailed the ability of ISIS remnants to hide and regroup, and have denied them freedom of movement, al-Rutba district mayor Imad Meshaal told Diyaruna on Tuesday (April 3rd).
"The desert, particularly around al-Rutba, is in a better situation than before, security-wise," he said.
The threat to al-Rutba from the surrounding desert areas has been greatly diminished due to military operations that have targeted remaining pockets of ISIS fighters in that area, he added.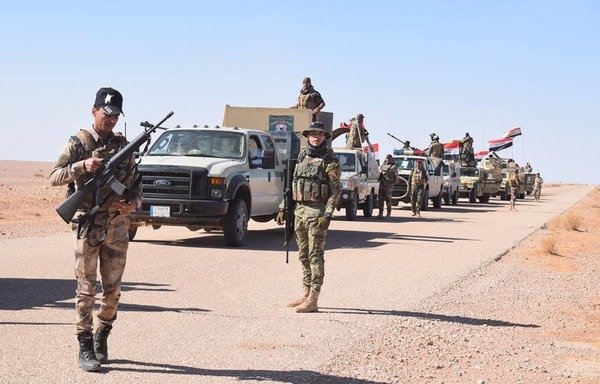 The movement of ISIS remnants has been paralysed by search campaigns and ongoing aerial surveillance by Iraqi army and coalition aircraft, Meshaal said.
Coalition aircraft last week struck senior ISIS leader Ismail Mohammed Abboud Qadi al-Issawi, also known as Abu Hisham, as he drove his car near al-Dabaa in the desert surrounding al-Rutba, he said.
Abu Hisham had taken part in many attacks in Baghdad and the southern provinces, he said, and was a key leader in ISIS's so-called Southern Province.
On Monday, Iraqi army warplanes struck two trucks carrying weapons and explosives on their way to al-Darama village in al-Rutba, the Joint Operations Command said.
In mid-March, two vehicles were bombed as they headed out of the desert in the direction of al-Rutba, killing 10 on board, Meshaal said.
Trade with Jordan resumed
Security efforts will continue, Meshaal stressed, calling for the formation of an airborne force composed of special elements that would track ISIS remnants and pinpoint their hideouts in the Anbar desert.
It is important to boost the quality of the military effort in Anbar, he said, as the province is Iraq's largest, and much of it is desert terrain.
The forces in charge of protecting the desert areas need more support, through surveillance and reconnaissance equipment and modern technologies, he added.
Meanwhile, the international highway from Ramadi to Trebil crossing on the border with Jordan is "very safe", Meshaal said.
Trade exchange has resumed, he said, noting that "an average of 400 truckloads of goods enter the country from Jordan each day".
"Civilian traffic is back to normal," he added. "The road is secured through more than 40 checkpoints, and there are several army and police units responsible for its protection."